Tonight at 10: Denver7 wants to move.
The TV station — whose call sign is KMGH, and which also brands itself "The Denver Channel" — at 123 Speer Blvd. is working to sell the real estate it has occupied since 1969, and has selected a potential buyer, according to sources familiar with the deal.
The buyer is expected to be eyeing multifamily redevelopment of the irregularly shaped city block, according to the sources. Denver7, meanwhile, would find a new base from which to continue operating.
Dean Littleton, general manager of the station, declined to comment. No redevelopment plans have been submitted to the city.
The Denver7 building, which was specifically built for the station a half century ago, tops out at five stories. It sits on a 2.3-acre lot, which is zoned for up to 12 stories and includes a fenced-in parking lot and numerous south-facing satellite dishes.
Electronic screens at the top of the building highlight the station's anchors, warn of incoming snowstorms and generally vie for the attention of commuters passing on Lincoln and Speer.
The station is owned by Cincinnati-based E.W. Scripps Co., which purchased it and others in 2012 from McGraw-Hill Broadcasting.
Multifamily redevelopment wouldn't be unusual for the neighborhood. Across Sherman Street, Virginia-based AvalonBay Communities is under contract to purchase the Racines restaurant property and other nearby parcels for a 13-story project. A block north of that, Atlanta-based Gables Residential has proposed an eight-story project and Denver-based LCP Development is constructing an apartment building next to Denver Housing Authority's former headquarters. Across Speer Boulevard, Washington-based Holland Partner Group and Dallas-based Mill Creek Residential are building apartments next to each other.
A move would represent the first major real estate shake-up in two decades among Denver's primary TV stations, which are all clustered within a mile of each other south of downtown.
KDVR, or Fox31, is directly south of Denver7, at 100 Speer Blvd. It's building is the newest of the stations, dating to 2000. The station's parent company sold it in 2017 for $23 million, records show, but continues to lease it.
KUSA, or 9News, has been at 500 Speer Blvd., three blocks to the east of Fox31, since 1992. The property is owned by the station's parent company.
And KCNC, or CBS Denver, is four blocks to the north of Denver7 at 1044 Lincoln St. The building dates to 1966 and is also owned by the station's parent company, according to property records.
Some of the stations also have lesser-known sister stations that operate from the same buildings.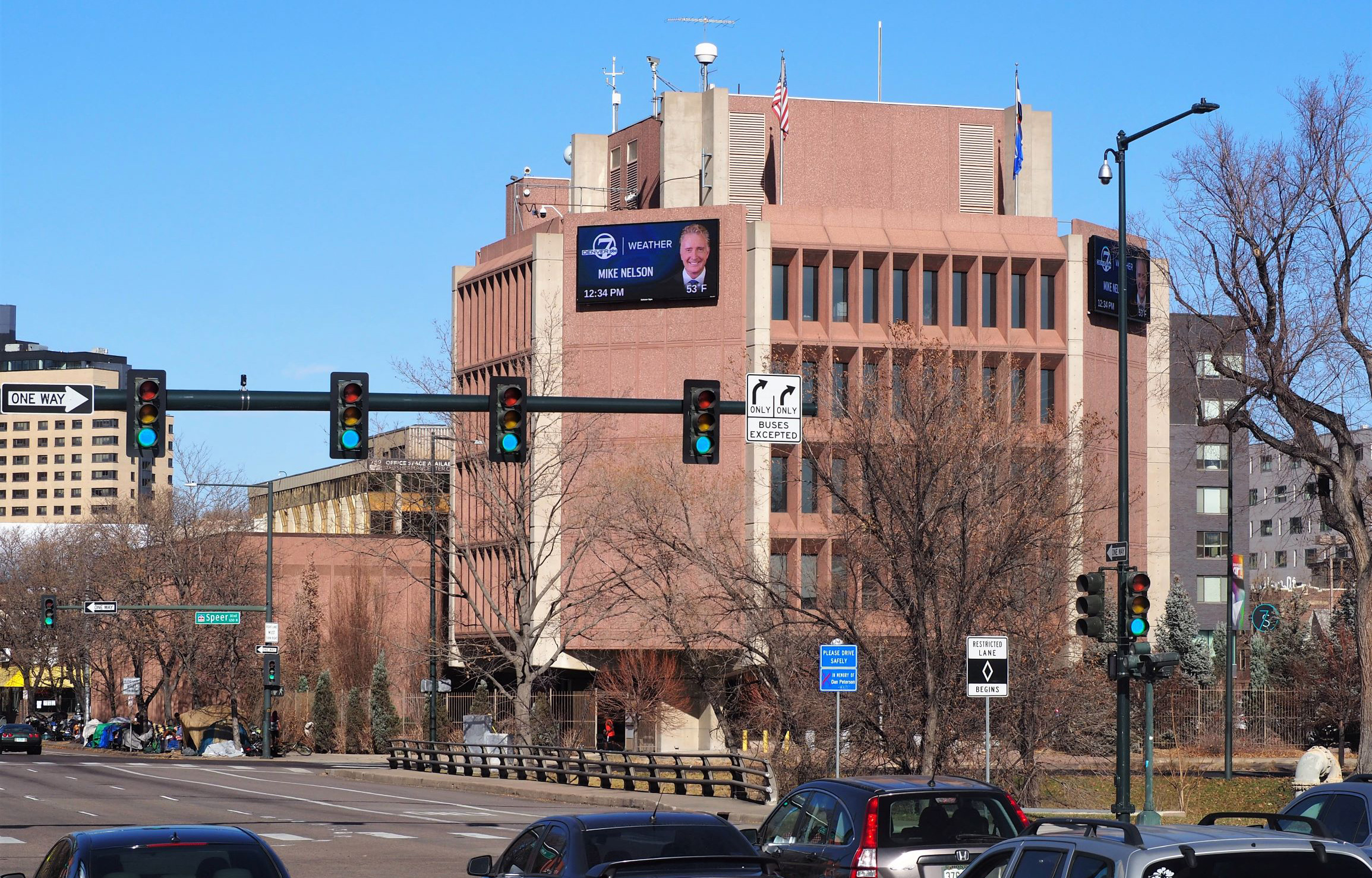 45190