Denver resident Billy Wynne and his wife Christy decided to get sober last year.
"We are lucky it was more of a life choice than a necessity," he said. "I just realized one day that the worst thing going on in my life was alcohol, whether it was the hangovers or bad choices made while intoxicated. And that was my signal to quit."
During their sober journey, the couple found it difficult to find a relaxing alcohol-free environment to hang out with friends in Denver. So, they've decided to open their own.
Awake, a coffee shop and alcohol-free bar, is set to open this month at 2240 N. Clay St., Unit 100, in Jefferson Park at the bottom of the River Clay condos.
"It's a very dense residential neighborhood, and there's no coffee shop immediately nearby. So, we thought it would be a perfect fit," Wynne said. "We're also excited to open Colorado's first alcohol-free bar to the public."
Through his real estate holding company Jagrata Holdings, Wynne purchased the 1,200-square-foot space for $895,000 at the end of October, according to property records. It was previously home to the Tiki-themed bar Hidden Idol, which closed in June as a result of the pandemic, according to Westword.
Awake will first open for coffee window service this month and serve a variety of breakfast items, such as fresh baked muffins from Aspen Baking and burritos from Mame's Burritos.
In mid-December, the Wynnes plan to add non-alcoholic beverages to the window service in time for dry January. Awake will sell alcohol-free lagers, sours and Prosecco from Denver-based Gruvi brewery, as well as Lyre's non-alcoholic spirits and Monday's non-alcoholic gin to name a few.
"We'll have three different IPAs, two different stouts and lagers and a variety of options," Wynne said. "We want people to feel like they're in the bar without the chemical of alcohol."
He said they hope to open Awake as a sit-down bar and coffee shop in April. He wants to start out with window service in case winter leads to another statewide shutdown.
"We had some considerable reservations about opening during COVID for all the obvious reasons," Wynne said. "But on the other hand, the time had come, and we wanted to put the wheels in motion for this alcohol-free space as soon as we could. The presence of COVID has actually benefitted us in some ways as a buyer of real estate. And it's required us to phase in the business, which is ultimately a good thing so we can do each one carefully and ramp up to the full experience by the spring."
Each month, Awake will choose a local charity to donate 2 percent of its sales and 20 percent of its profits. For November, donations will go to Denver's Children Advocacy Center.
"Christy and I both wanted this business to align with our values and be a fulfillment of a lot of our passions," Wynne said. "One of those is community service and support, so we felt this was an opportunity to bring together a lot of our values and interests and manifest this in the space."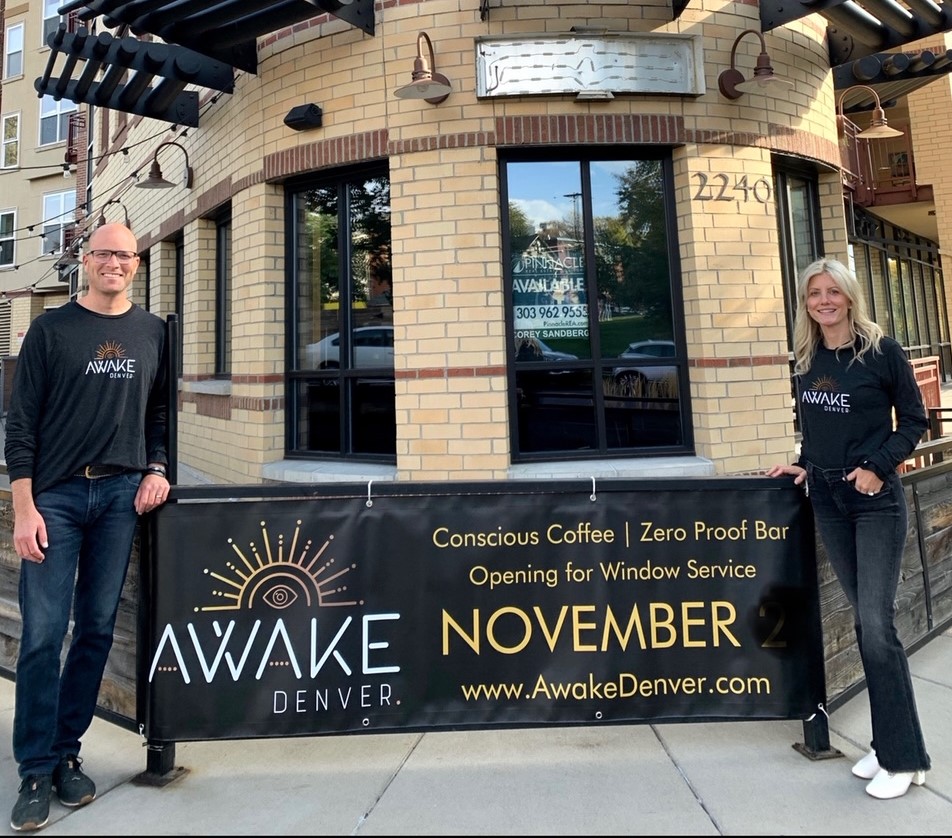 43856