A new decade is bringing with it new leadership at Otten Johnson.
Kim Martin, who has been with the Denver real estate law firm since 2004, will take over as managing director on Nov. 1.
She will be the fourth managing director of the firm since it was founded in 1985, and the first woman.
Martin said that's no longer rare — another Denver attorney was recently named president and managing director of Littler Mendelson, which has 1,500 attorneys — but she noted that women have been the majority of law school graduates in recent years, and that the upper echelon of most firms remains male-dominated.
"We're a minority in terms of having this kind of role, and more senior management roles," she said.
Martin is replacing Jim Johnson, who has been in the role since 2011. She said Otten Johnson Robinson Neff + Ragonetti, which has about 40 attorneys and just the one office in downtown Denver, doesn't have defined terms for its managing director.
Rather, Johnson made the decision to step down from the role. He remains with the firm.
"For me, it was an educational and personally fulfilling position," Johnson said in an email. "I feel very fortunate to work with a group of people — both lawyers and staff — who supported, trusted and believed in me. I'm more than ready, however, to pass this on to Kim. She is an exceptional lawyer and person, and I look forward to watching her make her mark on the firm and the Denver legal community in general."
Martin, 51, joined Otten Johnson in 2004 straight out of law school at the University of Denver, having worked at the firm the previous summer. She has served on the firm's compensation committee and executive committee, which oversees and chooses the managing director.
"This is building on the other roles I've had at the firm," she said.
Managing directors at Otten Johnson continue to represent clients. Martin said projects she's been involved in locally include the land acquisition and development process for Ikea's store in Centennial, as well as Missouri-based THF Realty's ongoing Prairie Center project northeast of Denver.
Martin said one of her priorities will be "using and taking advantage of technology to gain more efficiency as a law firm … and to maximize our client experiences." A number of technologies that have previously only been feasible for large law firms are now practical for mid-size firms like Otten Johnson, she said.
Otten Johnson has had a strong year despite the pandemic, she said.
"Real estate is, especially in Colorado, still busy," she said. "We're doing well through all of this and feel very fortunate to have a sophisticated and successful client base."
That doesn't mean things have felt normal, she said.
"It's been hard," Martin said. "At the end of the day, law and private practice is a relationship business. We don't have that face time with our colleagues and our clients."
As of October 2019, Otten Johnson was tied as the 26th-largest law firm operating in the Denver area, based on the number of local attorneys, according to rankings maintained by the Denver Business Journal.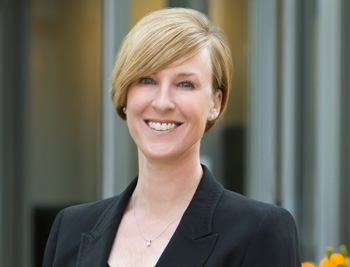 43703