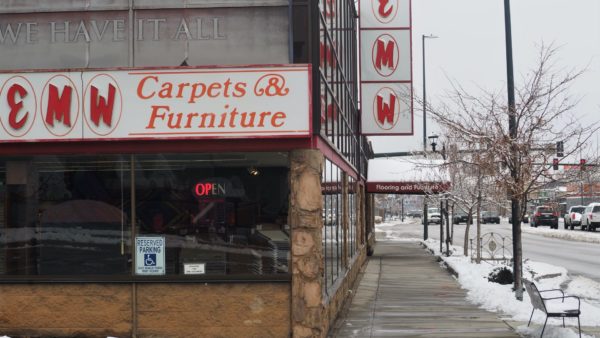 A furniture shop that has operated along South Broadway in Denver for nearly a century is in its final stretch.
EMW Carpets & Furniture at 2141 S. Broadway is having a store closing sale, according to the store's website.
The closure was not prompted by the coronavirus pandemic, the site notes. BusinessDen reported in March that Dallas-based developer Trammell Crow Residential had proposed a five-story apartment complex on the full city block where EMW sits.
EMW co-owner JC Helmstaedter owns the entire block, according to property records. Jarvie Worcester, managing director in Denver for Trammell Crow Residential, told BusinessDen that his firm hopes to close on purchase of the land in December, with construction on the 366-unit project beginning in the first quarter.
Englebert H. Wagenblast and his wife Elizabeth Mary Wagenblast, whose initials form the name of the business, started EMW from their home at the site in 1923, according to the website. The store has been owned by the same family since inception.
While everything must go, it's not quite slim pickings yet at EMW. In a brief phone conversation last week, Helmstaedter said delays in shipments have meant he's still getting new product in.
"I've got orders from July that normally I get in a week, and the one I just checked on is Sept. 22," he said.
Trammell Crow's complexes typically incorporate "Alexan" as part of their name. The company owns six complexes in Colorado. That includes Alexan Julian, nearing completion at 3400 W. 38th Ave. in Denver, and Alexan Diagonal Crossing, recently completed in Boulder. The company has also developed other properties locally and sold them.
More are in the works. In addition to the Broadway project, Worcester said the company purchased 2201 Clinton St. in Aurora, a tow yard near Stanley Marketplace, last month for a planned 338-unit project. And it's planning a 250-unit project within the Denver Tech Center's Belleview Station area; it has yet to close on that land.