An Uber of pharmacies is headed to Denver.
Capsule Pharmacy, a New York-based online pharmacy startup, was issued an "in-state pharmacy" license in May by the Colorado Department of Regulatory Agencies.
The license allows the registrant to obtain, store, dispense and administer drugs in Colorado, according to a DORA spokesperson.
Capsule plans to set up shop at 1441 Wazee St., Suite 103, according to its license and permit applications on file with the city.
Capsule did not respond to a request for comment. The firm specializes in delivering medications within two hours. It currently operates in New York City, Chicago, Boston and Minneapolis, according to its website.
Eric Kinariwala, Capsule's CEO and founder, launched the company in 2015 as a way to make the pharmacy experience more efficient and friendly, according to its website.
Capsule raised $200 million last year. Kinariwala told Bloomberg in September 2019 that the company planned to be in all of the major cities in the next three years.
Capsule isn't the only digital pharmacy on the market. San Francisco-based Alto Pharmacy, which has an office in the Golden Triangle, also functions as a full-service pharmacy without a physical store.
Alto makes a medication-tracker app for patients and software for doctors to track the status of patients and prescriptions, as well as internal software for pharmacists. It also offers free same-day delivery prescriptions for patients.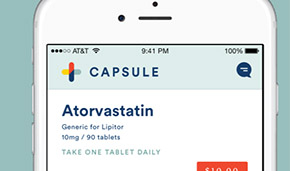 43189