Robert Thompson resigned this week from Punch Bowl Social, the bowling/restaurant concept he started in Denver in 2012 and eventually grew to 20 locations and $120 million in annual revenue.
The 49-year-old said he is more interested in dreaming up new millennial-focused business ideas than turning around Punch Bowl.
"I found myself daydreaming more about launching Thompson Growth Group than about the 99th iteration of a salvation plan for Punch Bowl," he said, referring to his new holding company that is currently soliciting investments.
Punch Bowl, which received federal Paycheck Protection Program loans between $5 million and $10 million during the pandemic, is open now at only three locations: South Broadway in Denver, Cleveland and Atlanta, Thompson said.
The company laid off thousands of employees in March and defaulted on a secured loan from non-bank lender CrowdOut Capital of more than $20 million. Cracker Barrel wrote down a $140 million investment to zero around the same time.
In a letter sent this week to investors obtained by BusinessDen, Thompson wrote that the company will be controlled by CrowdOut, which will appoint a chief restructuring officer to run the company. Investors were wiped out, he said, including his own investment.
"Some type of cleansing process will have to happen," Thompson said in a phone interview. "It will go through some type of foreclosure of Chapter 11 (bankruptcy)."
In June, Punch Bowl announced it would not reopen in Stapleton. At the time, Thompson said the company was negotiating with all its landlords.
Thompson said Punch Bowl was particularly vulnerable to the pandemic because the restaurant couldn't quickly ramp up a take-out business and relied on on-site entertainment for customers.
"Punch Bowl is dependent for 35 percent on corporate traffic. And there's a late-night component. We had zero corporate event traffic, and we were not able to adjust our business model to take out the way a Tex Mex concept could."
Thompson, who dropped out of high school and later attended Metro State University and Regis University, said he's not opposed to staying involved with Punch Bowl in a different capacity.
"I am willing to partner with a new capital partner to acquire Punch Bowl, but I am not willing to be Punch Bowl's CEO anymore."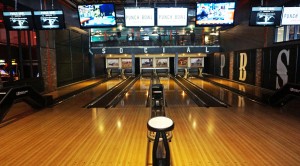 He added, "I am in part leaving because I feel like the universe dropped enough hints to create a window to do what I am really interested in for a large chunk of my career — create concepts and commercialize them."