Denver may soon have a city-sanctioned location for homeless campers to stake down their tents.
Colorado Village Collaborative, a local nonprofit that's working with the city to build and manage 10,000-square-foot campsites with port-a-potties, washing stations and 24-hour staffing, said last week that a pilot location has been proposed for the Denver Coliseum parking lot.
The Coliseum, at 4600 Humboldt St., was turned into a temporary women's shelter in April.
Colorado Village Collaborative Director Cole Chandler said the campsite will need City Council approval for the permit. It would run as long as the pandemic remains a public health crisis.
Chandler said he hopes to be up and running within three weeks and wants to add three more locations around Denver with each one hosting 50 tents and 60 people.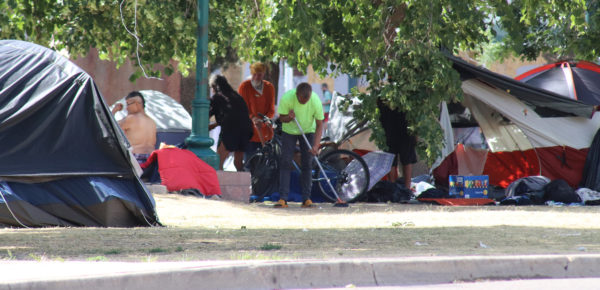 "We are looking for parcels that are flat and don't have flooding concerns," Chandler said, adding that proximity to city services is a plus.
"Parking lots are natural for us to look at."
"An area that is not significantly residential would be positive, too. It doesn't make sense to do it in a single-family neighborhood."
Colorado Village Collaborative is looking at land owned by the city, RTD and local citizens. It will not rent land, Cole said, but will reimburse a private landowner for costs like insurance.
"We're open to anything … We're looking for community members to make vacant land available to positively impact the community."
"There won't be water or sewer connections – it will all be hauled in and out," Chandler said.
In informational material presented to neighborhood groups, Colorado Village Collaborative says that rules for residents prohibit weapons, fires and storing belongings outside of tents.
Unsanctioned homeless encampments have proliferated during the pandemic with tents packed tightly together at Civic Center Park and surrounding Morey Middle School in Cap Hill. Smaller campsites have popped up in industrial neighborhoods and near overpasses.
One reason the camps are growing: the city has reduced sweeps, where officials require campers to move and then clean the detritus left behind. The mayor's office, which did not return an email seeking comment, is caught between residents and business owners who want their areas cleaned up and homeless advocates, who claim it's safest during the Covid pandemic to let campers remain where they are.
Earlier this month Mayor Hancock invited city council members to nominate locations in their district for campsites.
Colorado Village Collaborative, which launched a tiny home community in RiNo for formerly homeless individuals, will need to quickly ramp up its budget and hire staff, Chandler said. He's trying to raise $100,000 and has a matching grant from the Barton Institute.
Other cities that allow homeless camping include Portland, Tampa Bay, Aspen and San Francisco, according to Colorado Village Collaborative's materials.
The following photos are courtesy Guerrilla Capturing: