Amy Hyman ruminates all night on the options to keep her family's West Colfax business afloat.
None pencil out. None bring in enough revenue to cover the 30 workers who until March 15 made a living at Lake Steam Baths, a business her late husband's family started in 1927 and that she took over five years ago. And none pay her a salary to support two kids at home.
"I just wake up in a pool of sweat. It's terrifying," Hyman said. "I don't sleep at night."
When she does wake up, each morning she stares down the same bad hand, like the movie "Groundhog Day." She has permission from the city of Denver to let just 10 people at a time in the building where she used to get up to 100.
"I can't fix it," she said. "How long can I hold on?"
Hyman said she has generations of customers who come to the single-sex bathhouse — men on one day, women the next — for a schvitz, shower and schmooze. Prior to the pandemic, the cost was $22 and you could stay as long as you wanted. And grab a meal or snack at the lunch counter she ran inside the brick building.
Hyman studied trying to let in eight customers at a time (she has 2 staffers). But it's not how the business has run for almost 100 years, so marketing the new service would just confuse customers, she figured. Plus, she'd have to scrub the shower rooms down herself between each use. She scrapped the idea. She already cleans every Tuesday when the facility is closed to customers. Or at least used to be.
On May 9, she started letting in four massage customers at a time. But the $38 charge for an hour massage goes to the masseuse, who works as a contractor. Hyman added a $10 facility charge, but since only around 15 clients come in per day, that puts her daily revenue at just $150. She has no plan for how to bring in enough revenue to rehire all the staff she had to lay off.
Five years ago, Hyman took over when her husband, Hannon, passed away at age 60. The business was started by Hannon's grandparents, Ethyl and Harry, catering to Jews who lived and worked on the west side of Denver.
Hyman had some experience in hospitality, having previously worked as a realtor and bartender. She nursed the business back into the black and upgraded deteriorating infrastructure. She invested $20,000 in a boiler, $18,000 in a new sauna oven and upgraded the steam machine.
One other factor buoying her finances: She has no debt on the business or the building. She paid off the $400,000 mortgage when her husband died. She owns the 20,000-square-foot lot with the 11,000-square-foot building, as well as a parking lot across the street. Her properties are assessed at around $1.5 million, per property records. City taxes on those properties run $40,000 a year.
Last year, Lake Steam Baths produced a profit of $50,000 off revenue of $500,000.
"That was our first profitable year in a while," Hyman said. "And this was supposed to be our year."
But now she has just two months of savings left to fund the business and tuition for a son going to Colorado School of Mines in the fall.
She said she has to study every option to keep her head above water. That includes potentially selling the real estate.
Brokers used to come by from time to time to talk with her about her building. That's how she first heard the term "repurposing," broker-speak for closing down the spa and turning the brick building into another use.
"I have to look at all options," Hyman said.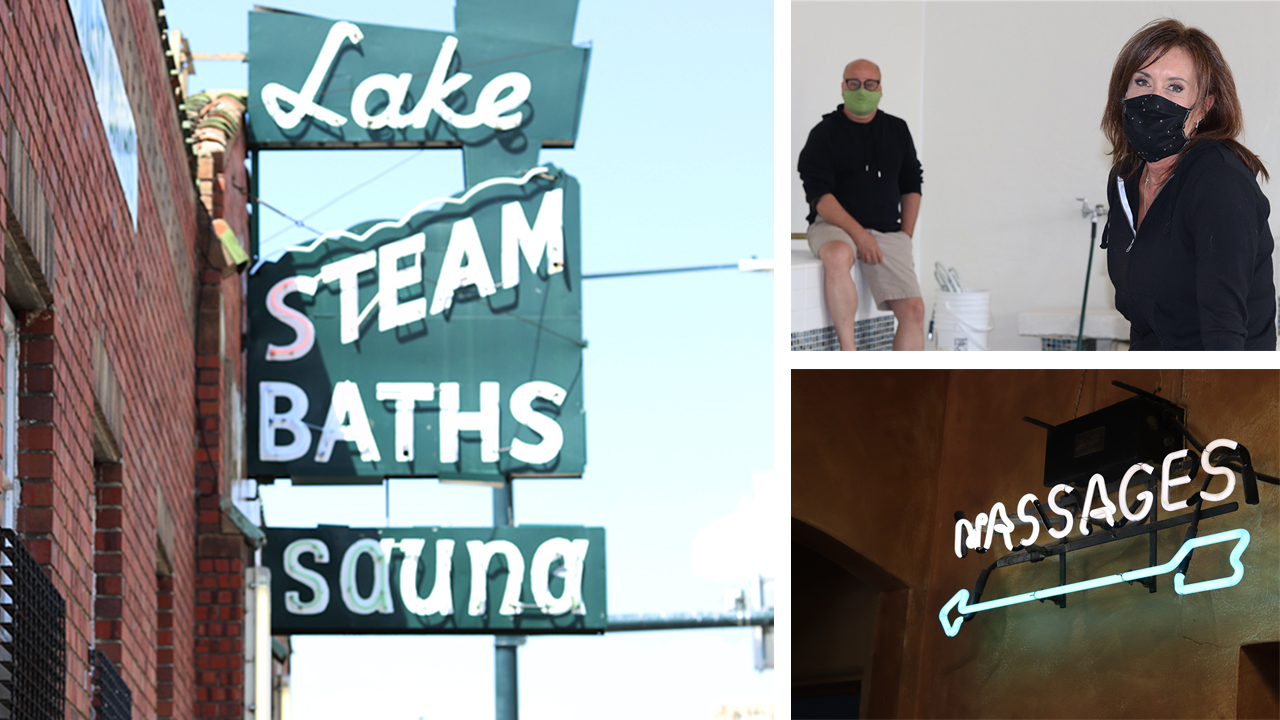 41752