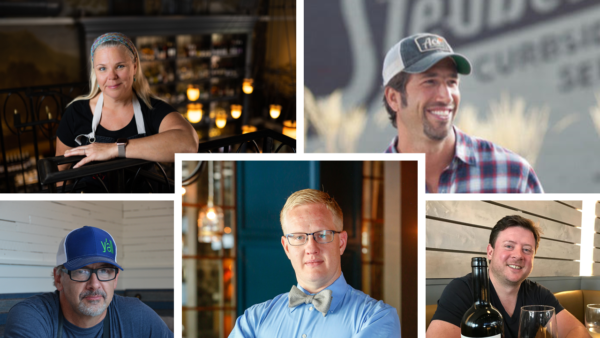 Plexiglass between booths. Single-serving condiments. Removing tables.
These are some of the steps Denver restaurants are taking to prepare for when they're allowed to reopen for dine-in service.
But some owners are taking a wait-and-see approach, preferring to monitor how their peers are handling what is sure to be a challenging situation.
"Any of the restaurants that were borderline will be gone," Larimer Square owner Jeff Hermanson said. "The pandemic will be an accelerant. We're entering into a delivery economy."
Larimer Square is home to a few of Denver's most beloved restaurants.
Denver Mayor Michael Hancock lifted the city's stay-at-home order effective May 9. While many businesses and offices are permitted to reopen, others, such as gyms and restaurants, are not. It's not clear when restaurants will be allowed to open, but many are taking safety measures to prepare for the day they can welcome back guests into their dining rooms.
Here's a look at what some of them are doing:
LoHi Steakbar
Look for plexiglass partitions between booths at LoHi Steakbar. The neighborhood gathering place at 3200 Tejon St. also plans to place hand sanitizer and single-use condiments on tables, which will be spaced six feet apart after the restaurant removes two of them from its dining room.
"We're pushing curbside pickup and moving to staff deliveries," restaurant partner Joe Pettenger said.
Like many other restaurants, LoHi applied for and was granted benefits through the paycheck protection program (PPP), but Pettenger hasn't decided whether it makes sense to use it.
"We're just as likely to give it back as we are to use it," he said. "How you distribute it is very specific."
The Crafted Concepts
Jen Jasinski has created new menus for the five restaurants that fall under The Crafted Concepts umbrella: Rioja, Bistro Vendome, Euclid Hall Bar + Kitchen, Stoic & Genuine and Ultreia.
"We're simplifying the menus so there is less of a menu to produce," Jasinski said. "The menus will be smaller with more cross utilization so we can keep food fresh and perfect, and sell it as quickly as possible."
As Jasinski develops a game plan to ensure the company doesn't go out of business, her crew is cleaning the restaurants that have been shuttered for seven weeks and making sure all the equipment is working properly. The staff is being retrained and all have taken or retaken the ServSafe food handler certification course.
At Rioja, which has been offering meals to go, two cooks work on a 12-foot line. When the dining room reopens, they'll have to be a little closer than that. Stoic & Genuine and Ultreia opened for take-out orders on Friday.
"We've been making mock schedules and trying to forecast sales to see what we can do," Jasinski said.
Big Red F
Big Red F owner Dave Query isn't rushing to open the dining rooms at his restaurants, which include Lola Coastal Mexican, Jax Fish House & Oyster Bar, Zolo Southwestern Grill, The Post Brewing Co., Centro Mexican Kitchen and West End Tavern.
"We're going to wait and watch," said Query, who lost his senses of taste and smell when he had COVID-19 several weeks ago. "We're not going to be the first one to get anything reopened. A lot of people smarter than us will be reopening, and we're going to watch them and try not to make the same mistakes. They'll probably do quite well because there are a lot of people who are dying to get back into the restaurants."
Meanwhile, Query is making modifications to Lola to make sure customers feel comfortable when he does open the dining room. He's removing the windows installed two years ago to enclose the restaurant's patio to make the space more airy and open, and distancing the tables and chairs by more than six feet.
He's also creating a walk-up window for customers to order tacos and tamales to go.
Culinary Creative
Culinary Creative group partner Juan Padro plans to open his restaurants when the city allows it and expects the rules will require him to operate at half their capacity. Culinary Creative's restaurants include BarDough, Senor Bear, Morin and Ash'Kara.
Meanwhile, Culinary Creative is implementing the Tock reservation system and Trainual, an employee hiring and training tool. It's looking into installing an air purification system and taking its cues from the marijuana industry, which uses them in greenhouses.
Culinary Creative also is working with city officials to allow street closures in front of the restaurants and is working on a plan to put tables on the vacant lot next to BarDough in LoHi.
"We hope to move tables out onto the street and take advantage of Colorado weather," Padro said.
Secret Sauce F&B
Secret Sauce owner Josh Wolkon, whose restaurant concepts include Vesta, Steuben's and Ace Eat Serve, doesn't plan to open his dining rooms anytime soon. He's focused on takeout and is ramping up his food truck business.
"We will continue to expand our takeout operations and Steuben's, and eventually Ace, with offerings like our upcoming Memorial Day lobster roll kit to go and pop-up Friday lunches," he said. "We continue to feed frontline workers at Denver Health and the youth of Urban Peak on a weekly basis."
Wolkon is considering setting up a large screen in the parking lot behind Steuben's to create a drive-in movie experience with food served from his trucks.
While he's considered private dining gatherings, he's not sure how rules such as requiring servers to wear masks and gloves will go over with guests.
"What's a guest going to feel like coming into a restaurant and a server is wearing a mask?" Wolkon said. "Is that going to be an enjoyable dining experience?"
He's also concerned about cutting the capacity of his dining rooms in half, which he said would not be profitable for his restaurants.
"I don't know how restaurants can operate at a 50 percent model," Wolkon said. "We're just not built that way. I'm trying to figure out how many months I can survive without opening."