Centennial Airport hasn't been this quiet since 9/11. 
"Overall business traffic is down approximately 90 percent; this is the worst I have seen in my 37-year career, worse than post 9/11," said Robert Olislagers, the airport's director, in a statement to BusinessDen. 
According to data from Centennial Airport, takeoffs and landings were down 71 percent from April 1 to 15 compared to last year. Around 4,300 flights have taken off and landed. That figure was 15,000 for the same time last year. 
"We saw an unprecedented closure of airspace ordered by the Federal Aviation Administration after 9/11, so we have seen days like this before," said Deborah Smith, spokeswoman for the airport. "But what's markedly different about that is that that airspace closure lasted like three or four days. This is something that's been going on for several weeks."
According to Smith, the type of aircraft flying out is similar to what it was before, just with far fewer flights taking place. She said they've seen larger business jets, such as the Gulfstream and Global Express, continue operations, as well as smaller business aircraft, such as the Cessna Citation. 
Centennial Airport is the third-busiest general aviation airport in the United States, with more than 340,000 operations a year, according to General Aviation News. It serves the corporate, business and private flyers, and is home to more than 900 aircraft. 
The airport services a mix of operations, including but not limited to business and private jets, five flight schools, recreational pilots and medevac transportation. 
According to Dave Ulane, director of Colorado's Office of Aeronautics, the 74 airports throughout Colorado have had a 95 percent decrease in passenger traffic as a result of the pandemic. 
General aviation reports, like the number of people flying in and out of Centennial Airport, are harder to quantify since they don't have that kind of benchmark statistics like a commercial service report, he said. But even if business traffic is down, he said there's still a need for professional travel to remain active. 
"Anecdotally I have heard a lot of business aviation traffic is still active because it's obviously easier to social distance and know the people you're traveling with if you're on a smaller business type aircraft or private aircraft than it is on a commercial air carrier," Ulane said. "So I do understand a lot of those operators that are flying critical and essential folks around are doing so with aviation and of course, all 74 of our airports, biggest to smallest support that kind of activity here in Colorado."
Angel Flight West, a nonprofit that arranges free aviation transportation for people who need to travel for non-emergency medical appointments, recently completed a number of COVID-19 response missions, including flights to deliver hand sanitizer, a ventilator and PPE for medical professionals. This month, the organization flew out of Centennial Airport and delivered a ventilator to Rangely District Hospital near the Colorado/Utah border. 
While business traffic might be down, private individuals are still chartering planes. SimpleCharters, which allows people to book private jets, has a few dozen privately owned and operated aircraft stationed at Centennial Airport. SimpleCharter customers can also book private planes in Denver from Rocky Mountain Metropolitan Airport, Colorado Air and Space Port and Denver International Airport.
Charles Denault, CEO and founder, said SimpleCharter's "revenues were almost 40x in the month of March going into April." He attributed that to private individual travel, rather than business traffic.
"Specifically in Denver around the time when all the colleges started closing, we had a record number of flights in and out of there. We had a lot of people flying in from the East Coast picking up their children from college," Denault said.
Over the past 60 days, the founder said most travel in and out of Centennial Airport was on mid-size private jets and up.
"In line with the change in traffic, we saw a decrease in turboprop activity, but an increase in super, mid and large cabin size jets," Denault said. "That reflects how far these people are going into or out of Denver. If they're leaving from the East Coast they need this large jet to get their non-stop and back."
Centennial Airport sits on approximately 1,300 acres in both Arapahoe and Douglas counties. The land is not only home to the airport itself but also to more than 100 independently operated businesses.
It's a powerful economic engine for the state. In more than five years, Centennial Airport's economic contribution to the state's economy nearly doubled to $2.1 billion in 2018, up from $1.32 billion in 2013, according to the 2020 Colorado Division of Aeronautics Airport Economic Impact Report.
The airport has been able to retain its 24 full-time employees, although the administrative offices are closed and staff is mostly working from home to ensure safety.
Despite such a drop off in numbers in the first half of April, Olislagers predicts general aviation activity, in general, will have a swifter recovery than commercial airlines.
"We are quality driven, not quantity driven. We can provide more effective social distancing than airlines," Olislagers said. "It is not efficient for airlines to take out one-third of the seats and maintain costs at previous levels. Even with the middle seat empty or removed, you're still 18 inches from the next person; not the 72 inches social distancing prescribes."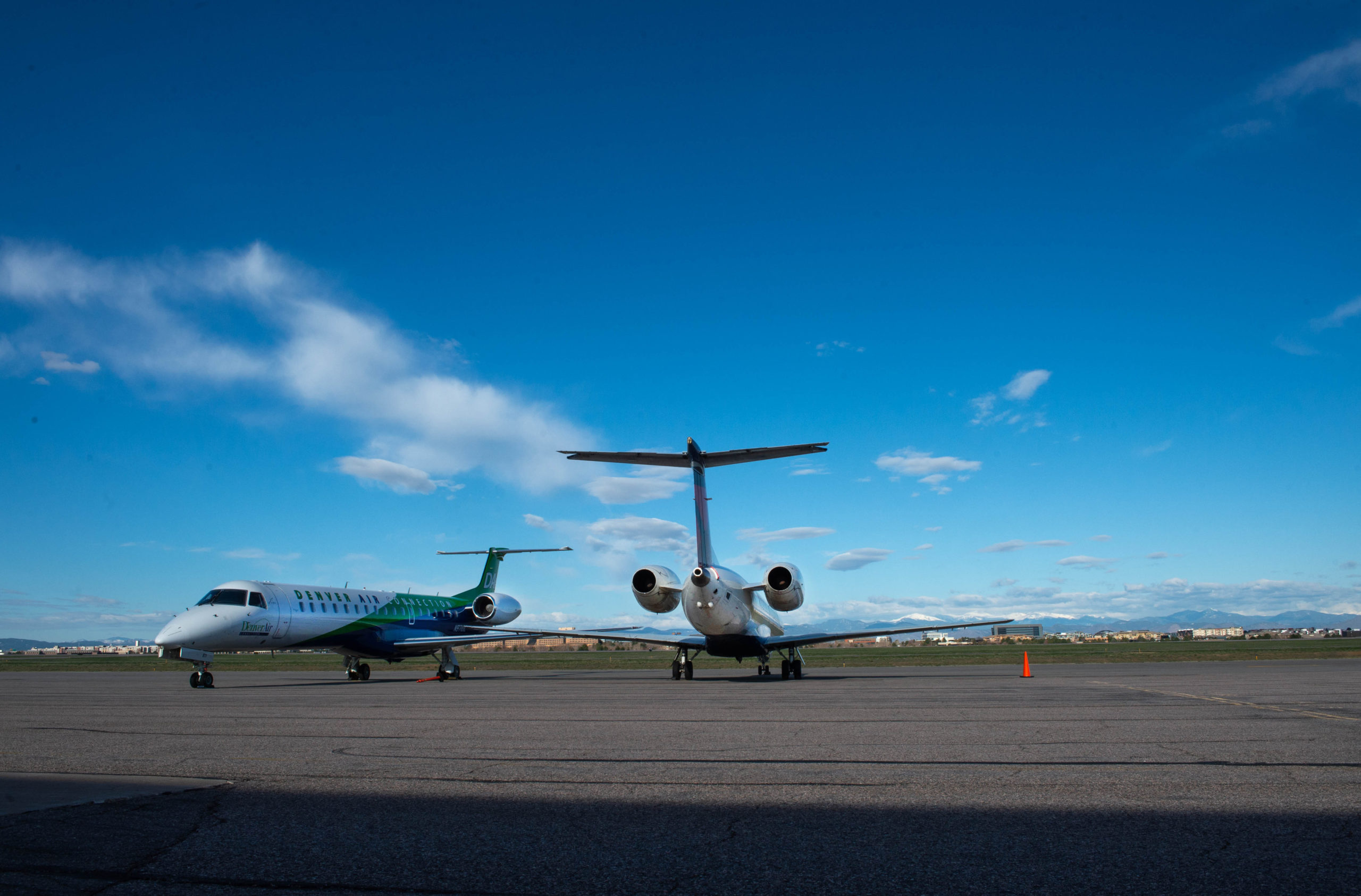 41181