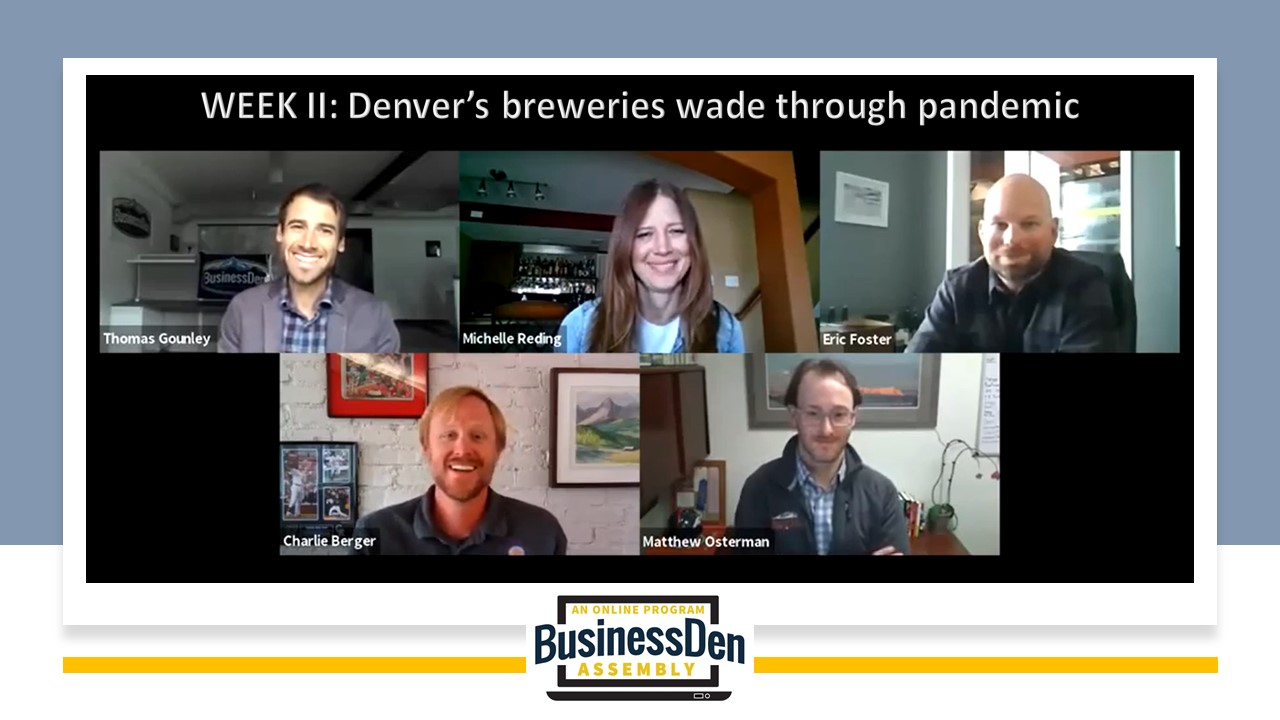 When Denver-area taprooms, like restaurants, were forced to close their seating areas, Dry Dock Brewing Co. tried to keep both of its Aurora locations open for packaged sales.
After two days, however, co-owner Michelle Reding said they decided to close The North Dock location.
"Our tasting rooms were about 25 percent of our total revenue, and with North Dock going to zero and our other location South Dock still below 50 percent, that's our best margins and that's definitely painful," she said.
Reding was one of four panelists in the second BusinessDen Assembly, an online panel discussion exploring how local industries are navigating the coronavirus pandemic. Other panelists in the Thursday event, which focused on the local brewing scene were Charlie Berger, co-founder of Denver Beer Co.; Eric Foster, co-founder and CEO of Stem Cider; and Matthew Osterman, owner of Denver contract brewer Sleeping Giant Brewing.
With draft beer sales fizzing out, the brewers said their focus has turned to packaged products. Berger said Denver Beer's revenue is nowhere near what is normal, but he's been pleasantly surprised by the community's support.
"As far as overall demand, people are still drinking," he said. "We can all be honest about that; I'm doing my part. So, they're buying our beer at the retailers, independent liquor stores and grocery stores, and so our package production is up, but it doesn't quite make up for the draft that's lost."
Osterman, whose company brews for other brands, said Sleeping Giant had a strong start to March, when customers were stocking up. Although things have slowed down in the past few weeks with cancellations, he still anticipates a boozy summer. But he doesn't want to get too excited with a perishable product.
"It doesn't make sense for us to brew a bunch now because the clock starts ticking as soon as it's in the package," Osterman said.
Osterman also noted that national industry surveys indicate some breweries may be unable to reopen, particularly if their taproom accounts for the vast majority of revenue. He said the Denver area is unlikely to be immune.
Foster said Stem Cider has laid off 62 employees, but none of them have been on the production side. The company is thinking about how its taprooms operate in a world of social distancing requirements.
"Our Lafayette location has 8 acres up on a hill where we can space people out and let people hang out far away from each other," Foster said. "And our landlord in RiNo just gave us the same opportunity to use our parking lot for a giant patio to space people out and allow them to have some sort of unpremised experience."
The group emphasized that despite financial fallout and closures, people will continue to drink beer and, hopefully, support local businesses.
"I see the other side of this, whether that's a month away or a year away," Berger said. "I can tell that the Colorado consumers really do love craft beer, so we're fortunate that they know that they're helping by buying a six-pack at a time."
BusinessDen Assembly is held every Thursday at 11 a.m., each week with a focus on a different industry and with a new slate of panelists.
Tickets are now available for next Thursday's panel, which will focus on local developers. A portion of the proceeds from ticket sales go to Food Bank of the Rockies.
---
Check out our previous Assemblies: