Denver has a new high-water mark for condo sales.
The western-facing unit of the two penthouses atop the 45-story Four Seasons building downtown sold in late February for $16 million, according to public records.
The unit initially hit the market in 2017, with a $13 million price tag. The seller purchased it in 2011 for $6.6 million, records show.
The nearly 6,800-square-foot unit, which spans two floors, faces the mountains and has three bedrooms, five bathrooms, and an outdoor hot tub and fireplace.
The unit was purchased by Forty Four 14th Street LLC, an entity that was formed by attorney Matthew Pluss with Senn Visciano Canges. Attorneys regularly form entities on behalf of clients. Pluss declined to comment.
Listing agent Stan Kniss with Slate Real Estate Advisors did not respond to requests for comment Friday.
The Four Seasons building consists of a hotel topped by private residences. The building's eastern-facing penthouse sold in early 2019 to Artur Bergman, founder of tech company Fastly.
Address: 1133 14th St., Unit 4400
List price: $13 million
Sale price: $16 million
Buyer: Forty Four 14th Street LLC bought the unit on Feb. 25
Seller: 1133-4400 LLC. Public records trace the LLC to Dan Wolf, who manages real estate for Four Seasons investor Salomon Juan Marcos Villareal.
Villareal is the CEO of Mexican apparel company Grupo Denim. His name appears on loan documents tied to the LLC that purchased the penthouse in 2011.
The finer things: The penthouse's amenities include access to valet, housekeeping, two fitness centers, an outdoor pool and the hotel's house phone, where hotel staff carry out every wish.
"That's what you don't get at any place in town," listing agent Stan Kniss previously told BusinessDen. "There is a staff downstairs that knows exactly who you are as the owner of the penthouse."
The penthouse has 750 square feet on its two balconies, which include a hot tub, fireplace and built-in heaters, according to previous reporting.
"I think the outdoor living is about as amazing as it comes," Kniss said previously. "The other thing that I really love is there's a very sleek two-story staircase. It's a work of art on its own."
Architect: John Carney, Eric Logan, Kevin Burke, Jeff Lawrence, Matt Bowers and Steve Jakub of Jackson Hole, Wyoming-based Carney, Logan and Burke Architects designed both the penthouse and the entire Four Seasons building, which opened in 2010.
Listing agent: Stan Kniss with Slate Real Estate Advisors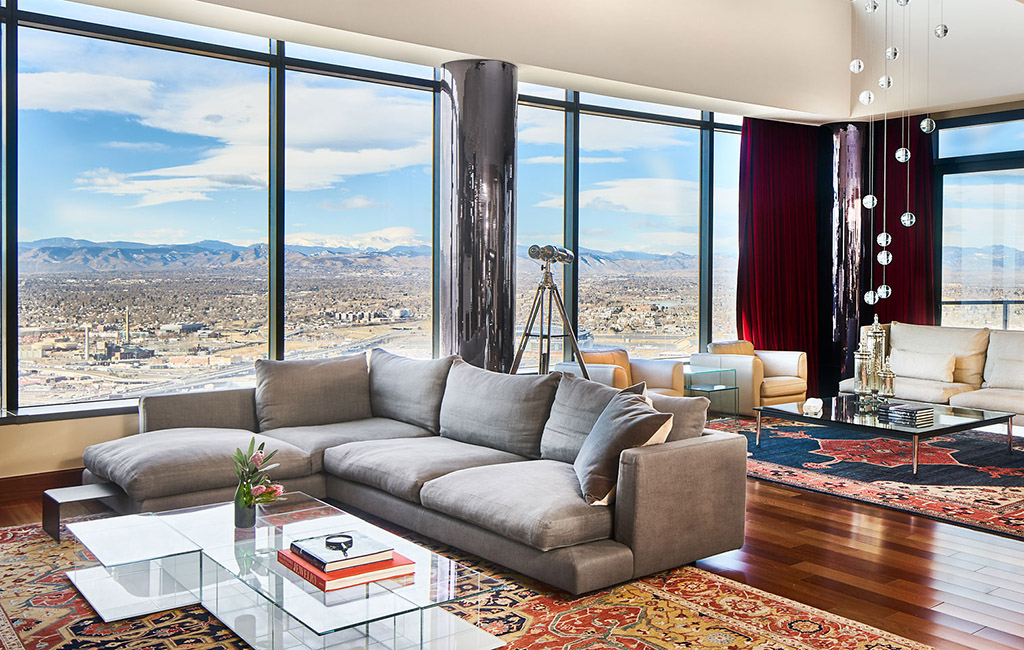 40364