Tavern Platt Park isn't the only restaurant that left Pearl Street as the year ended.
Hanson's Grill & Tavern, at 1301 S. Pearl St., also closed in late December, according to a sign on the door.
Founded in 2001, the restaurant's menu ranged from burgers to shrimp scampi, green chile mac and cheese to salads. Hanson's also served brunch on Saturdays and Sundays. The two-story restaurant had a full bar, a back patio and games upstairs.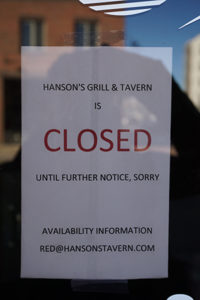 Red Nikkel purchased Hanson's in January 2017, according to Westword. A regular at the bar, he previously owned Red's Pub in Broomfield for 5 1/2 years before closing in 2010.

Nikkel did not respond to a request for comment.

Conifer resident Thomas Koehler has owned the 8,400-square-foot building, which dates to 1911, for decades, according to public records.

One block away, Tavern Platt Park closed at the end of 2019. Tavern owner Frank Schultz, who sold its real estate for $4 million, said sales were lower than expected, and the restaurant business has gotten more challenging given wage hikes and the competition for workers.


39371