Edgewater Public Market has added two more tenants to the roster at its yet-to-open food and retail hall.
Retailer Artisans Thrive and food truck Tilford's Wood Fired Pizza have signed leases at the 50,000-square-foot development in Edgewater, which is slated to open later this month.
Though both tenants already have a presence in Denver, the market will be both's first brick-and-mortar store.
Tilford's owner Steve Burton said he and his wife launched the mobile pizzeria about three years ago. He signed a five-year lease on the 480-square-foot space, and plans to expand the menu at the food hall to include appetizers, salads and desserts.
"The food truck is strictly pizza," Burton said. "Our hand-tossed dough goes into our oven for 90 seconds at 900 degrees. It gives it a different texture that's unique to wood-fired pizza."
Burton said that in addition to the food truck and the upcoming food hall, he's teaming up with a Pennsylvania brewery to open the first out-of-state Tilford's concept.
Also opening at Edgewater Public Market is Artisans Thrive, a shop run by the social enterprise Women's Partnership Market.
Both were founded in 2014 as a way to provide access to the U.S. market for female artisans in other parts of the world, according to Associate Director Andra Breazeale.
"Our primary goal is to work with female artisans that have little to no access to the U.S. market, where they could actually make money off their products," Breazeale said. "Once those products are sold, we're able to reinvest in the artisan cooperatives."
The shop primarily offers women's clothing and accessories, as well as fair-trade gifts, Breazeale said. The business hopes to expand into baby and men's clothing in the future.
Artisans Thrive signed a three-year lease on the 450-square-foot space inside the market, after five years of retailing on its website and at Denver crafts fairs.
"There's not a true fair-trade store in Denver, so we felt like there's a hole in the marketplace," Breazeale said. "We wanted to fill that void for customers."
Michelle Colvin of Mile High Luxury Real Estate represented Artisans Thrive in leasing.
Broker Ken Himel, who's leasing the space with broker Shawn Peel, said in an email that Edgewater Public Market may open Nov. 16, depending on final permitting.
After that, the market will be open from 8 a.m. to midnight Sunday through Thursday and 8 a.m. to 1 a.m. on weekends.
Tilford's Wood Fired Pizza will be open from 11 a.m. to 9 p.m. Sunday through Thursday and until midnight on weekends. Artisans Thrive will be open every day from 11 a.m. to 7 p.m.
Denver-based LCP Development is developing Edgewater Public Market. The project involves the renovation of a former grocery store, a retail strip and a small freestanding building at 20th Avenue and Depew Street.
Other tenants at the market include Barquentine Brewing Co., Monna Pizza and Meta Burger.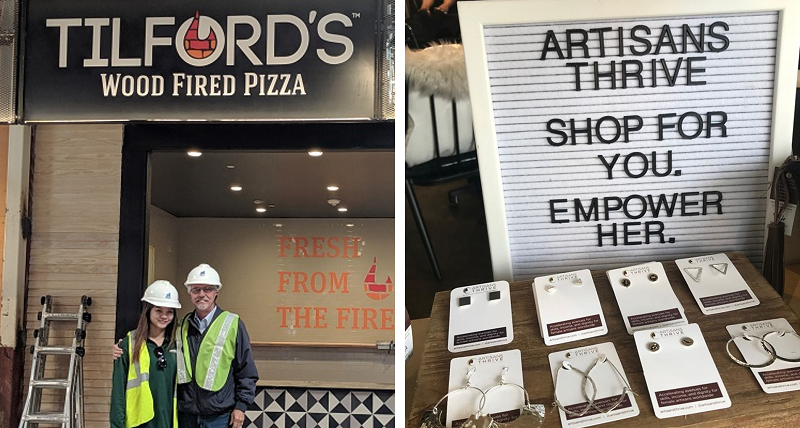 38790