There soon will be a new way to soak up Denver's beer scene — literally.
The region's first "beer spa" is targeting a March opening at the edge of Five Points, offering patrons both a self-serve beer wall and a list of beer-infused spa services.
"The idea is to take a day spa and a taproom and combine them into one location," said co-owner Jessica French. "Like a day spa for craft beer enthusiasts."
Though the concept is popular across Europe, French and co-owner Damien Zouaoui said their business, dubbed The Beer Spa, will be only the third to pop up in the U.S.
"I'm originally from France, and my grandparents used to wash their hair and skin with beer," Zouaoui added. "It's full of nutrients and B2. B2 helps make hair and skin shinier and softer."
The Beer Spa has leased 3,100 square feet at 3004 Downing St., in the mixed-use development 30 Block. French said half the space will be for spa services, while the other half will be a taproom.
"Our main service will be Beer Bath Hydrotherapy, which is essentially a 40-minute soak in a tub filled with young beer," French said. "It's not fermented because there's no yeast in there, so there's no pungent smell, but you still get all the vitamins and nutrients from hops and barley."
In addition to the beer bath, the business will feature an infrared sauna infused with barley and hops, which French said is a natural sedative, as well as a zero-gravity massage chair that lifts users two feet off the ground.
Purchase of a spa service includes a $10 voucher for the attached taproom, which will feature six taps from a different local brewery each month, French said. The taproom also will offer wine and kombucha.
"We're really going to be promoting the benefits of beer ingredients, so even if you don't drink beer, you can still come and enjoy the therapeutic aspects of beer ingredients," French said.
Spa patrons can book one hour in a room, which includes the beer tub, the infrared sauna and a shower, for $99. Use of the massage chair can be added on for $20 for 15 minutes and $30 for 30 minutes.
French and Zouaoui, former New Yorkers, were on a 14-month trek around the world when the pair discovered a beer spa in Poland.
"It was one of the most relaxing experiences I've ever had in my life," Zouaoui said.
The pair had quit their jobs in New York — French in human resources and Zouaoui in sales and marketing — before their travels, and wanted to find a new place to settle and launch their business.
"We tried to find out where in the U.S. we could apply this concept," Zouaoui said. "We really wanted to be somewhere where it would fit into the DNA of the city. Denver won by far in terms of demographics, average salaries and tourism, so we came here to make this happen."
The other two beer spas that have made their way to North America operate in Chicago and Sisters, Oregon. But French said The Beer Spa will try to modernize the approach.
"The thing about the other two locations is that they just took the concept from Eastern Europe and dropped it here in the U.S. without a lot of adapting," she said. "In Eastern Europe, they're very rustic and woody, and you lay in a bed of hay after a beer bath. I don't think it's a good representation of what we're trying to create. We want to create a space that's modern and industrial with a lot of technology."
And they don't plan to stop in Denver. French and Zouaoui hope to open a second location within the next few years, targeting tourist destinations such as Brooklyn, New York and Seattle.
"I think it could also be fruitful at ski destinations like Aspen or Breckenridge," French said. "Maybe even partnering with ski resorts to open a location in the facility."
In Denver, The Beer Spa will join the 30 Block development, which currently is being renovated to include retail, office, medical and restaurant space, according to marketing materials.
Amanda Dorotik with Pinnacle Real Estate Advisors represented the landlord in lease negotiations, and Carolyn Martinez of Newmark Knight Frank represented The Beer Spa.
After its launch, The Beer Spa will be open from 10 a.m. to 9 p.m. weekdays and 9 a.m. to 10 p.m. weekends.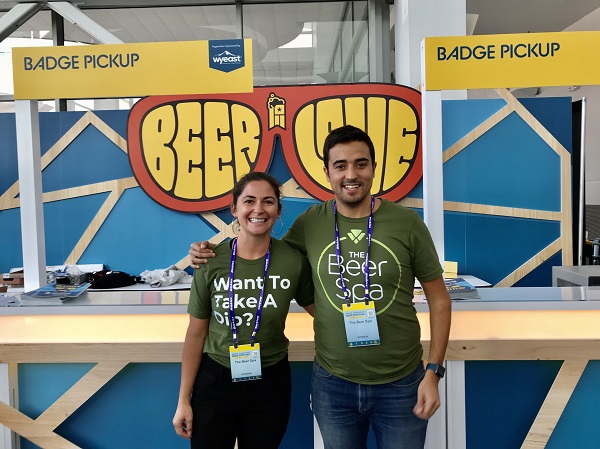 38706