The office space in Denver's newest skyscraper is fully leased, although interested companies still have a way in.
Developer Hines and brokerage JLL confirmed last week that tenants have signed on the dotted line for all the office floors in the 40-story 1144 Fifteenth tower.
The building broke ground with no tenants locked in ("a spec project" in industry jargon) in June 2015 and was completed in April 2018. JLL brokers James Roupp, Michael Crane and Andy Ross marketed the building's office space. Some ground-floor retail space is still available.
The first office lease, for cybersecurity firm Optiv, was signed in October 2016. The final lease was signed this month. According to an email sent earlier this month by JLL, which was obtained by BusinessDen, the final five tenants to sign on were Bank of America, Cresset, Kimmeridge, and law firms Arnold & Porter and Greenspoon Marder.
Other tenants who previously leased space in the building include Gates Corp., Faegre Baker Daniels, Boston Consulting Group, PNC Financial Services, Unicom Capital, Greenberg Traurig, Johnson Financial Group, Petrie Partners, Enterprise Products and Royal Gold.
Interested office tenants still have one way in. Chipotle leased approximately 150,000 square feet in 2017 for its headquarters. In May 2018, however, after hiring a new CEO, the company said it instead would move operations to Southern California.
The company has been trying to sublease its space in the building for more than a year. As BusinessDen previously reported, Royal Gold is the only known subtenant, and documents indicate the company is taking just 8,445 square feet.
Tim Macdonald, head of Arnold & Porter's Denver office, told BusinessDen the law firm leased the building's entire 31st floor, which works out to 25,600 square feet.
The firm will leave behind 25,000 square feet in Republic Plaza, which has been its home base locally since 2001.
"Lots of people, including me, were happy with Republic Plaza," Macdonald said. "But I think there was some excitement about a move to a brand-new building with updated amenities, and that end of town."
As part of the move, the firm is shifting to a single office size for attorneys. Faegre Baker Daniels did the same when it moved to the building.
"At our shop, everyone seemed on board, from the most senior folks to the junior folks," Macdonald said.
Arnold & Porter's Denver office has about 25 attorneys and about 15 other staff members, Macdonald said. CBRE broker Greg Holm helped the firm find the space.
The move to 1144 Fifteenth represents a significant local expansion for Greenspoon Marder. Firm co-founder Gerald Greenspoon said the firm has leased the entire 27th floor, which will be approximately 2 1/2 times larger than its current space at 1401 Lawrence.
Greenspoon said the firm entered the Denver market around 2015, and subleased the space at 1401 Lawrence from fellow law firm Polsinelli. The firm grew interested in taking the space back around the same time that Greenspoon Marder was outgrowing it, Greenspoon said.
"That worked out very well for us," he said.
Greenspoon said his firm has 13 lawyers in Denver now, but expects to have at least five more within a year. The firm will have 30 offices in its new home, which it expects to move into around March.
"Where there's continuous growth in an area, it's always good for a commercial law firm," Greenspoon said, noting the firm also has a subspecialty in the marijuana industry.
Savills broker Richard Schuham represented Greenspoon Marder in the lease.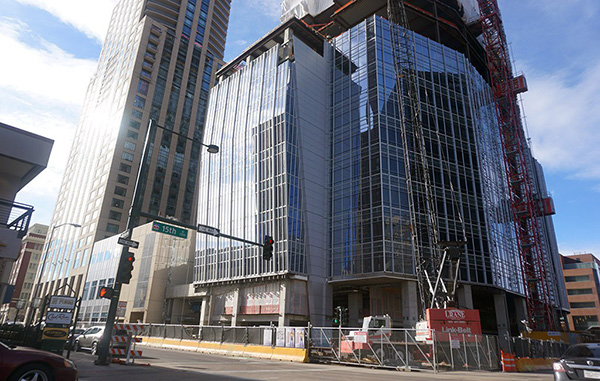 38486