StretchLab is reaching into LoHi and Cherry Hills Village.
The California-based chain of assisted-stretching studios, which entered the Denver market in March with a Cherry Creek location, plans to open in both areas next month.
Dina Silverman, the franchisee who opened at 3201 E. 2nd Ave. in Cherry Creek, is also behind the upcoming Cherry Hills Village location.
"We've done really well in Cherry Creek, in that urban part of Denver," Silverman said. "Cherry Hills has a lot of people that are pretty similar from a demographic standpoint to Cherry Creek, so it gives us good coverage between the two locations."
Her newest outpost will open Nov. 8 at 5022 E. Hampden Ave. She signed a five-year lease on 1,400 square feet within the Happy Canyon Shopping Center.
"We're next door to these big fitness concepts like Orangetheory and CorePower, which works because we are a recovery concept," Silverman said. "We'll be very complementary to the fitness concepts out there."
Silverman said her Cherry Creek studio has about 350 members, who pay rates starting at $149 a month. The chain's membership model is intended to encourage regular stretching among customers. But one-time sessions also can be booked, at $55 for a 25-minute session.
Silverman said she also hopes to open in Boulder by early next year.
"The nice thing about the brand is that it's so broad," she said. "We see athletes, folks who work in office jobs who sit for 10 hours a day, frequent travelers, and the elderly population is more active than ever. It almost doesn't matter where you are, because it's so broad in appeal."
First-time StretchLab franchisee Marci Colb is behind the brand's upcoming LoHi location, set to open next month in 1,400 square feet at 1226 W. 38th Ave.
"LoHi is an ever-developing area, and has the demographics of people who'd be interested in these kinds of services — lots of folks doing outdoor activities or going to the gym a lot who are interested in staying well," Colb said. "We can really have clients from all walks of life, and LoHi is a great mixture of that."
Colb, who works in higher education, was drawn to the franchise because of the benefits of stretching she's seen in her own life. Colb said she's had shoulder problems since playing tennis in high school, and found that medical professionals almost universally recommended stretching as a way to alleviate the pain.
Colb said she hasn't nailed down membership pricing for the LoHi location, but that one-time sessions will cost $50 for a 25-minute session and $95 for a 50-minute session.
StretchLab has one other location in the metro area, in Parker. It opened in April. The brand's parent company is Xponential Fitness, whose other brands include Club Pilates, CycleBar, Row House and Pure Barre.
Competitor Stretch Zone has locations in Broomfield and Centennial. A Parker location is expected to open in December, according to a press release from the owner of the Crossing at Stonegate shopping center.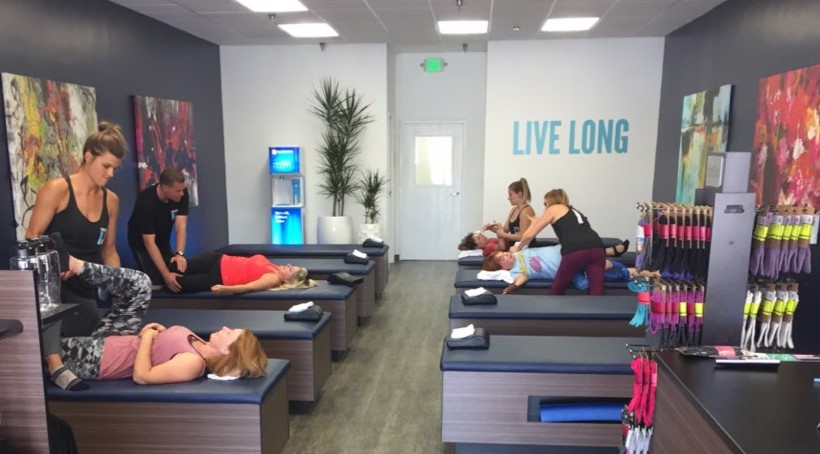 38222