Call it Waze for drone traffic.
When longtime pilot Rick Zelenka began to worry about drones during his flights out of Centennial Airport, the popular navigation app — which allows drivers to report route information, including car accidents and traffic jams — was what inspired his solution.
The planned product, an aviation map that would warn pilots of nearby drones and allow them to report ones they encounter, has caught NASA's attention.
Zelenka's Denver-based startup, Drone Traffic LLC, has been awarded a funded NASA contract to further develop the idea. He's brought on Virginia-based Mosaic ATM, an aviation-focused software company, for assistance.
"NASA already has put a lot of funding and research into drones operating in the airspace, so it was absolutely a match," Zelenka said. "We put in a bid on working in a specific area of research that NASA wanted small businesses to pursue, and we won the contract."
The six-month NASA contract, called a Small Business Innovation Research (SBIR) award, kicked off last month and will last through February 2020. It offers $125,000 in funding and access to NASA's research on drones in airspace.
"By the end of the contract, we expect to have a prototype of the software and some initial results about how it would work, with both real and simulated data," he said. "We'll deliver a report to NASA and on that same day, we'll be submitting a proposal for phase two."
Phase two would last 24 months and offer up to $750,000 in funding, he said.
Drone Traffic LLC holds two patents related to the product, and a third is pending, Zelenka said.
Since being awarded the NASA contract, Zelenka said that Drone Traffic and Mosaic ATM have received letters of support from various companies interested in offering hardware to support the product.
To get the Drone Traffic product on the market, the software would require two pieces of hardware: One is the display, which Zelenka said would resemble an iPad that could be mounted inside the cockpit. The other is a small, lightweight radar designed to detect drones.
"There are a number of companies developing lightweight radars meant to be carried by drones, so that they can avoid other drones," he said. "They're about the size of a typical smartphone. What we're going to be doing is taking advantage of this body of new technology for our product."
NASA's SBIR awards aren't just about researching and developing a product, Zelenka said. To get the grant, a proposal must also have a commercialization plan.
"We're pretty bullish about that," Zelenka said, adding he hopes to get a product on the market by late 2020.
The drone challenge
Zelenka, a pilot since 1983, began forming this idea about five years ago, as drones gained popularity.
"The challenge with drones is that they're harder to see than manned aircraft," he said. "There are so many drones out there and with even more coming, the likelihood of drones operating where they shouldn't be increases. The FAA documents over 100 incidents of drones operating where they shouldn't be every month — it's not an academic problem."
Commercial pilots who fly for scheduled air carriers such as Delta or Southwest fly at high altitudes and in FAA-regulated air space, meaning drone avoidance is only an issue during takeoff and landing, Zelenka said. But the risk for collision increases for general aviation pilots, who tend to fly lower, and take off and land more frequently.
In thinking about the problem, Zelenka realized he was uniquely qualified to find a solution. Beyond his aviation experience, he's a full-time patent attorney, as well as a former NASA researcher who focused on collision warning systems for helicopters in the 1990s.
By October 2015, he had filed his first patent application for the idea. In October 2018, with one patent in hand, he attended the NASA-sponsored Innovation & Opportunity Conference in Aurora, where former NASA colleagues expressed interest in the idea.
That's when he approached a former colleague at Mosaic ATM about partnering on the project.
"They're very skilled in taking concepts like mine and really fleshing them out and developing them into prototypes and actual products," Zelenka said. "I knew that I didn't have the bandwidth to develop modern software like Mosaic ATM.
"My role is as an expert on the system that I developed. I provide them with subject matter expertise — I'm an active general aviation pilot, and can also provide expertise on the practical aspects of the idea given my prior experience in flight testing and as an engineer at NASA."
If Drone Traffic is awarded the phase two grant, Zelenka said NASA SBIR awards offer a phase three, which has no time or funding limit.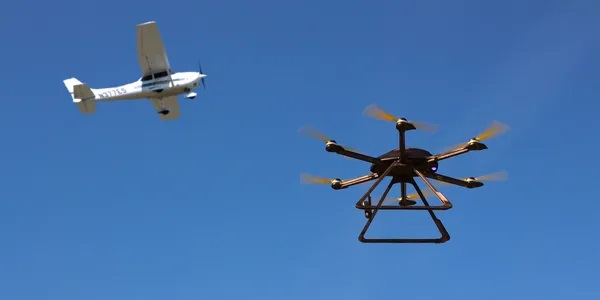 37923