A new bike shop rolling into the Highlands will double as a classroom.
Framework Cycles, set to open at 3655 Navajo St. early next month, is the second business launched by Great Work, a local education reform nonprofit. The group also launched the adjacent coffee shop Pinwheel Coffee in tandem with a local Montessori school in 2017.
"We'll focus in on commuter bikes and utility bikes," said Brian Sense, executive director of Great Work. "We really want to help get people out of their cars and into a bike that fits their lifestyle."
The bike shop will occupy a 2,700-square-foot space previously home to art gallery Pirate Contemporary Art, which moved to Lakewood in 2017.
Sense said about 20 bikes will be kept on the sales floor from brands Opus Bikes, Benno Bikes and WorkCycles, and its full-service shop will offer services such as tuning and safety inspections.
Sense said Framework will employ five bike mechanics. But if patrons notice an unusual number of 7th- and 8th-graders hanging out, it's because both Framework and the coffee shop soon will double a classrooms.
Great Work teamed up with Denver Montessori Junior Senior High School to launch Pinwheel Coffee two years ago, and everything from its location to its name was chosen by students at the school who elected to take the "Micro-Economy and Coffeeshop" class. Students then worked at the shop during the class period.
"The managers involve them in making decisions, which helps (students) understand what they're doing and why," Sense said. "They're public-facing roles, and the businesses themselves are high-functioning, professionally run businesses, which gives it an authenticity for learning purposes."
The success of that business model led Great Work to begin work on both Framework Cycles and Embark Education, a micro school that will hold its first day of classes on Aug. 19. Micro-schools tend to be independent organizations centered around personalized instruction and small class sizes, and often are affiliated with Montessori Schools.
Embark students will spend their days at Pinwheel and, when it opens two weeks later, Framework. Sense said the school currently has 16 students enrolled for the fall. There's no tuition charge; costs are covered by business revenue.
"All the curriculum for our school is embedded in the operation of the two businesses," Sense said. "Math comes in the form of budgeting. History and geography comes from ordering the beans and learning about the region where the beans came from. Physics comes from learning how to repair bikes, and going riding to learn about centripetal force. And it all builds leadership skills and business experience."
Patrons may not realize that despite its double identity, the businesses are also classrooms.
"Typically most folks that come in come because it's a great coffee shop," he said. "We want the public to see these great businesses that are competitive in the landscape — and there just happens to be this other mission aspect serving as classrooms for Embark. They're every bit as top tier as anything."
After its launch, it will be open daily from 10:30 a.m. to 6 p.m. Students will be there only between 9 a.m. and 3 p.m., Sense said.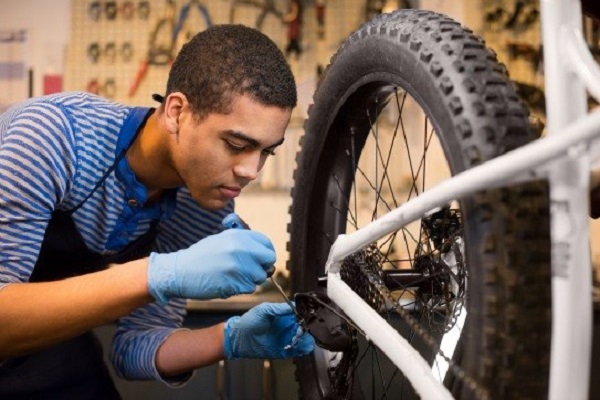 37011