A Boulder-based gelato chain has scooped up $200,000 in new funding.
Gelato Boy's inaugural investment round, disclosed to the SEC this month, is the latest development in a busy year that has seen the company break into grocery stores, change its name and announce plans for its second Denver location.
"What we're doing is pretty unique," said co-founder Bryce Licht. "Not a lot of brands do both distribution and scoop shops. We're trying to grow both sides of the business. But not too fast — distribution is very different than running scoop shops."
Licht met his wife and business partner Giulia at a gelato shop in Italy in 2008.
"We knew we wanted to bring (gelato) back to Boulder specifically," said Licht, a Denver native. "We never even made the call — we just knew this was what we wanted to do. We moved to Boulder in 2012, bought a gelato machine, got a commissary kitchen and got started."
Originally called Fior di Latte (and then Fior Gelato), the business first opened its doors five years ago at 1433 Pearl St. in Boulder. Two years later, it added a second shop a quarter-mile away at 1021 Pearl St.
The brand expanded into Denver in 2018 with a location in the food hall at Zeppelin Station. There, it tried on the Gelato Boy name for the first time, while the Boulder locations remained Fior Gelato.
"Gelato Boy was my nickname when we lived in Italy," Licht said. "We wanted to go back to our roots, and the name was really well-received."
The company since has decided to leave behind the Fior Gelato name entirely.
"We submitted a line of retail pints to Whole Foods under that name, and it was accepted, so we thought the name had some good momentum," he said. "People tend to gravitate towards it more, because it's fun and approachable."
Whole Foods is the first grocer to stock Gelato Boy pints. It began doing so at Colorado locations in April, selling the pints for about $7.
Licht said the $200,000 that Gelato Boy recently reported raising will be spent "building up our infrastructure to handle our grocery retail line as it expands."
"We'll also start seeking out more locations," he said. "That's just the first part of a much bigger investment coming in."
Licht said he anticipates adding another Denver location by next summer, and eventually would like to expand out of state. But in the meantime, the business is pouring some capital into the build-out of its 1,000-square-foot space at the upcoming 9+Co development, set to open in November.
This location is the first time the business is building out a space from scratch, Licht said.
"The other locations all had similar uses before we moved in, but for this one it's everything but the external shell," he said. "It's a bigger project than anything we've done in the past."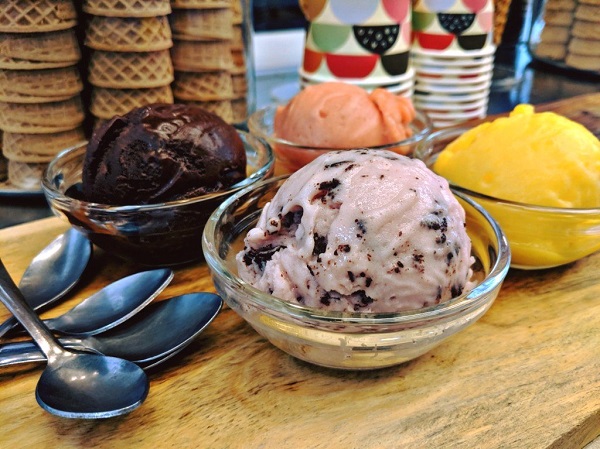 36665