A group of entrepreneurs wants to help dog owners more easily take care of business.
Operating under the name NOBO Pets, former Denver resident Evan Purcell and three business partners had raised $20,794 on Kickstarter as of Wednesday afternoon — more than double their goal — for a dog leash with a refillable, integrated poop bag dispenser.
"Every time I went running, I had to think through the process of making sure to grab poop bags," Purcell said. "I never forgot the leash, so why aren't they one and the same?"
Bag dispensers that clip onto leashes are widely available on the market, but Purcell said they often bounce around and fall off during runs. So the engineer made a leash prototype for himself with a built-in bag dispenser.
"As more people saw it, I got a lot of great feedback, and I started thinking of additional features," Purcell said.
He said he made more than 100 prototypes before coming to the final product. The leash now also features an ergonomic handle with a quick-snap release, allowing dog owners to easily attach their dogs to a pole or bench outside. A screw-lock carabiner attaches the leash to a collar or harness, and the leash also can be transformed into a slip lead for dogs that pull.
Purcell and his business partners, one of whom lives in the Denver area, started marketing the product at the GoPro Mountain Games in Vail in early June at the same time they launched the Kickstarter.
"We had a booth at the event with all of our prototypes," he said. "People would come by and we'd show them a prototype and they'd back our Kickstarter right there at the booth. It was a very personal and upfront way to know how people were responding to the product once it got in their hands."
But after the event, movement stalled.
"It's one of those products where you really have to use it before you buy into it," said Brandt Tilley, co-owner and head of marketing. "It's not an easy one to explain through a picture."
Still, as of Wednesday, almost 500 people had backed the online campaign, putting it well past the $10,000 goal. The campaign runs through July 30.
The team will begin shipping out leashes next month, beginning with the first 100 backers. Those buying the leash on Kickstarter are paying up to $52, which is 20 percent less than the planned retail price.
The startup's goal is to launch the products online at full retail price around October.
"The purpose of the Kickstarter was to get the product in front of the market and see if people responded well," Purcell said. "To be honest, I had no idea what to expect."
The team of four is focusing primarily on getting the product to market, but Purcell and Tilley said they have dreams of building a larger brand, and other products in mind.
"There's a hole in the market for people who have the mind and desire to invent solutions to pet-related problems," Tilley said. "It's not just about a cool-looking leash — it's about bringing innovation back into the pet industry."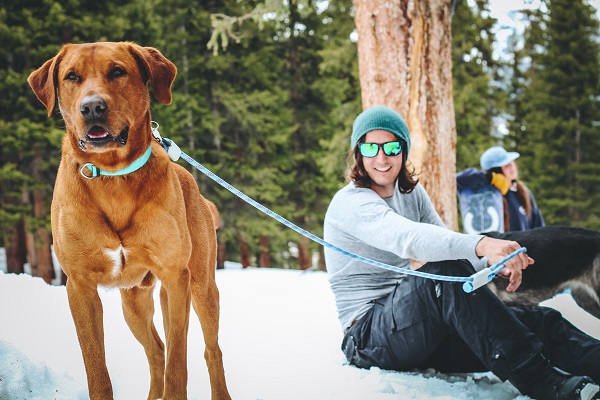 36417