Russian-themed coffee purveyor Dazbog has brought the Red Square to Lincoln Park.
The Denver-based company completed construction in May on a new five-story production facility at 1090 Yuma St. 
The structure is red and it's essentially a square, so Dazbog — whose menu includes a KGBlend and Troika Espresso — has named it after the Moscow landmark. The company says it triples its production capabilities.
"(The new space) allows us to grow without thinking of moving or looking somewhere else in the future," Anatoly Yuffa said. "We can stay here with just about any growth we can get in the next decade."
Records show that Dazbog has owed the 0.6-acre property on Yuma Street since 2002, when the company purchased it for $840,000. The site previously housed a pair of one-story buildings that Dazbog used for many years, Yuffa said.
The smaller, 2,000-square-foot office building served as its headquarters, Yuffa said, while the larger building next door served as the brand's manufacturing facility. Eventually, the company needed more space.
"We really wanted to stay in Denver," he said. "And we wanted to stay here — we loved the location and proximity of it, so we started looking into our options."
The office building was demolished last year to make way for the new five-story production space. The structure immediately adjacent to Dazbog's previous manufacturing space, which has now been renovated to incorporate offices.
Construction began in May 2018, said Yuffa, who declined to disclose the project cost.
Dazbog Coffee was founded in 1996 by Yuffa and his brother Leonid, who is the company's president and chief operating officer. The pair emigrated from the former Soviet Union alongside their parents in 1979.
"When we started our business in '96, it was a wholesale business, selling premium coffee to grocery stores, to restaurants, to offices," Yuffa said. "That was the core business for many, many years."
The company moved from a smaller facility to its current site in 2002, and opened its first retail store at 3773 Cherry Creek Drive North in 2006, which still operates today.
The brand now has about 30 coffee shops across Colorado and Wyoming — it recently opened inside the Wellington E. Webb Municipal Office Building at 201 W. Colfax Ave. — and is looking into further out-of-state expansions. But Yuffa said the business still focuses on wholesale and grocery store sales.
"We're carried by many national brands," he said. "That's where there's a lot of growth."
The company employs about 150 people across its retail stores and corporate offices. Locally, Dazbog coffee is served at restaurants including The Cherry Cricket and Tom's Diner, and at the offices of companies like DaVita and Dish Network.
"We're probably one of the smallest companies to have our own K-cup production line," Yuffa said.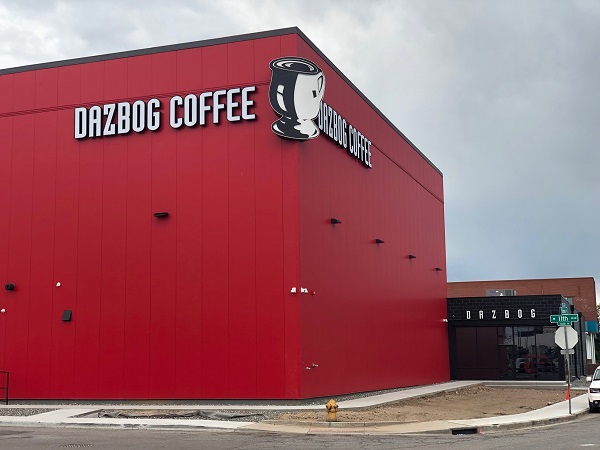 35876