A Cheesman Park mansion that recently hit the market offers 20th century architecture, stained glass windows and, according to some, the loitering ghost of its original owner.
The eight-bed, six-bath home at 1070 N. Humboldt St. was put on the market last week at $4.5 million. The home, which backs up to the park, is one of 24 mansions in the Humboldt Street Historic District just west of the park, all of which were built between 1895 and 1920.
The home, dubbed the Thompson-Henry Mansion, was built in 1905 for Alonzo Thompson, a reported "spiritualist" who claimed to be in contact with his dead father. A newspaper clipping from 1912 mentions a "forbidden room" where the younger Thompson would hold seances, and another from 1913 claims that the recently-deceased millionaire "makes its appearance every night in the Thompson mansion."
Address: 1070 North Humboldt St.
List price: $4.5 million
Stats: The eight-bed, six-bath home was built in 1905, per its REColorado listing. The 11,000-square-foot mansion sits atop 0.38 acres in Cheesman Park.
The finer things: The Georgian Revival-style home retains many of its original architectural details: ornate staircases, never-painted hardwood cabinetry, quarter-sawn oak pocket doors, several unique chandeliers, hand-painted and gold-leafed ceilings and hand-laid parquet floors.
A semi-circular portico above its main entrance is visible from outside, as well as two dozen stained glass windows (one of which is a five-foot-tall, hand-painted portrait of Romeo and Juliet).
The mansion offers a plethora of formal living spaces, including a parlor, dining room, conservatory and billiards room, as well as a grand ballroom in the basement and a side entrance for guests. Seven fireplaces are dispersed throughout the property, including one in the master bedroom and an outdoor fire pit.
The mansion's listing indicates that it was one of the first homes in Denver built with steel-beam construction. Movies and TV shows, including a remake of "The Shining," were shot at the estate, and the listing claims that "significant dignitaries have hosted meetings there."
The 0.38-acre corner lot leaves room for a three-car, attached garage. Its professionally-landscaped backyard, which backs up to Cheesman Park, features a large deck and gardens.
Architects: Harold W. Baerresen and Viggio Egede Baerresen, a pair of Danish architects better known as Baerresen Brothers. The brothers were active in Denver and Cheyenne, Wyoming at the start of the 20th century, and are behind many local historic buildings, including the Mosque of the El Jebel Shrine in Uptown.
Sellers: Robert A. Reginelli Jr. and Kathleen Reginelli, who purchased the home in 1991 for $650,000, according to county records. Robert Reginelli was formerly an investment banker with Wells Fargo, according to his LinkedIn profile.
Listing agents: Steve Blank, Jared Blank and Robert Chase of LIV Sotheby's International Realty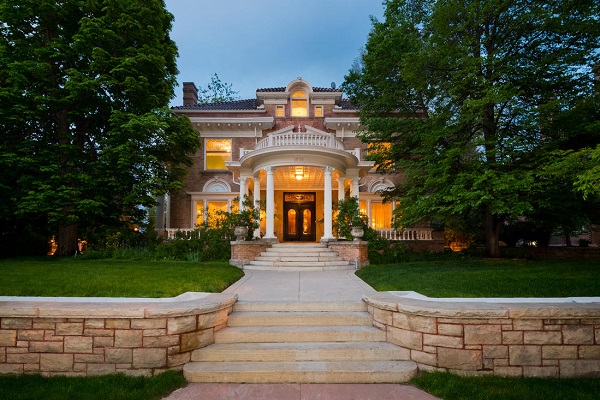 35828