Knew Conscious, a dual art gallery and members-only social club that previously operated in RiNo and Ballpark before closing last year, plans to reopen at 1134 N. Broadway in the Golden Triangle on June 29, according to founder Kurt Redeker.
The 10,000-square-foot, three-story building was formerly home to Element Kitchen & Cocktail, a restaurant by former Top Chef contestant John Tesar that closed in March 2018 after seven months in business. The restaurant's owners also briefly operated a dual speakeasy and high-end sneaker shop in the building's top floor.
Redeker launched Knew Conscious at 2700 Walnut St. in RiNo in 2010 as a way to showcase his own art, before eventually deciding to add in other artists as well. The former graphic designer describes his work as "multi-medium" — he creates backlit, digital artwork, which he then frames in light boxes.
Redeker added members-only events to the business model in 2016 to "get more eyes on the art." In May 2017, Knew Conscious moved to 2041 Lawrence St. in Ballpark, but it closed there in June 2018 in part, Redeker said, because the building was found not to have the zoning needed for the business' events.
Knew Conscious had 4,000 active members when it closed last June, Redeker said. In the Golden Triangle, the first floor — a concert hall fit for 500 people — will hold the business's private music events. The gallery and social space will be above that. The building also has a rooftop patio.
In terms of new offerings, members should expect pop-up restaurant concepts.
"We're going to be bringing in chefs from around the city to do one-off dinners for our members," Redeker said.
Knew Conscious will be open to the public from noon to 6 p.m. Tuesdays through Saturdays. The evenings will be reserved for its members-only events, which Redeker said are often performances by national and international musicians.
Redeker said he'll continue to showcase his work alongside that of other artists. Its grand opening on June 29 will feature work from Danish artist Morten Andersen from 7 p.m. to 11 p.m., which will be open to the public.
The space also will be available for private event rentals; Redeker hasn't yet nailed down pricing, but said even nonmembers can rent the space.
"Once we get this formula down, hopefully we'll open up another location," Redeker said. "We're looking to open multiple locations in other cities."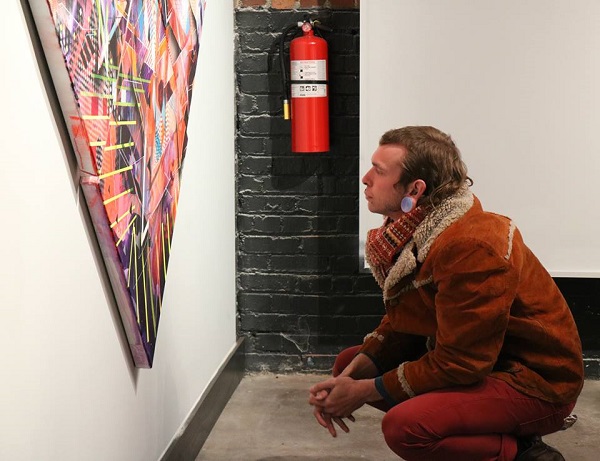 35472