A 10-acre estate in Cherry Hills Village formerly owned by a jailed fraudster recently sold after the government seized it.
The lavish property at 4545 S. Holly St. had been on the market since 2015, originally priced at $14 million. It finally sold in April for $7 million, records show.
Power plant developer Michael J. Ruffatto had owned the estate since 1992, according to records. The U.S. Department of Justice seized the property in September 2018, nearly two years after Ruffatto pleaded guilty to criminal fraud in a Pennsylvania court.
Prosecutors said that Ruffatto, who is in his 70s, stole millions of dollars from a federal grant awarded to his Greenwood Village-based company North American Power Group, which develops, owns, operates and manages energy-related projects.
According to the Department of Justice, the Pennsylvania-based National Energy and Technology Laboratory awarded Ruffatto's energy company $14 million in 2009 to study carbon storage potential on a Wyoming power plan, but suspended the agreement in January 2012 after the department discovered Ruffatto was using the grant money for personal expenses.
A Wyoming news outlet quoted an assistant U.S. attorney saying in court that the money went toward "payments for the defendant's personal residence in Englewood, Colorado, payments for the defendant's Mercedes Benz, payments for personal purchases at Neiman Marcus, payments for carpeting worth thousands of dollars, payments for expensive jewelry, and payments for the defendant's international travel."
In June 2018, Ruffatto was sentenced to 18 months in prison and three years' probation for the theft of $5.7 million. A civil settlement also requires he and the company pay a total of $14.4 million in restitution, penalties and interest.
Ruffatto reported to a California prison in August 2018, one month before the government seized his Colorado estate.
Address: 4545 S. Holly St.
Sale price: $7 million
Stats: The 13,200-square-foot mansion was built in 1965 and holds six bedrooms, seven bathrooms and two home offices. Also atop the estate's 10.7 acres are a 2,300-square-foot stable and an eight-car garage.
The finer things: The lavish gated estate features a heated pool and hot tub, a pool house, an outdoor fireplace, a children's playhouse and a pond, as well as a "European-style walkway" leading to a six-stall horse barn. The mansion's interior includes six gas fireplaces, double-pane windows, a wet bar, and Jack-and-Jill bathrooms.
Seller: MJR Holly LLC, according to Arapahoe County records. The entity was registered by Michael Ruffatto and lists the address for the Greenwood Village-based North American Power Group Ltd.
Buyer: The Williams Revocable Trust Agreement, according to public records. Lisa Beathard Williams and Charles Allen Williams, Sr. are the trustees behind the entity.
Listing agents: Susan M. Diliberti of Kentwood Real Estate Cherry Creek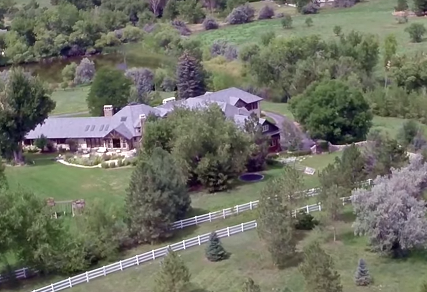 35378