A Boulder-based company that aims to be the Starbucks VIA of instant tea has raised a fresh round of funding.
Cusa Tea uses a method developed by founder and CEO Jim Lamancusa to make organic instant tea. After two years of rapid growth, the company closed this month on a $2.5 million investment round.
"About six months ago I realized our growth was going to outrun our cash flow," Lamancusa said. "I realized I needed to raise money to keep up with growth."
Lamancusa said Cusa Tea is "the world's first organic instant tea company," free of sugar, preservatives or added flavors. He modeled the concept to resemble Starbucks VIA instant coffee after realizing there was nothing comparable for tea drinkers.
He said he was on a backpacking trip, carrying wet, used tea bags around in his backpack when he began developing the idea.
"People always ask how nobody else had come up with this," he said. "The answer is that they did, but they didn't know how to do it."
Companies such as Lipton have offered instant tea for years, he said, but it didn't taste like a real cup of tea.
A new method
Usual methods of dehydration, such as used in instant coffee, use either extreme cold or extreme heat. But he found that when used with tea leaves, those methods would damage the leaves and strip the product of its flavor.
He said his wife's eye cream provided a light-bulb moment.
"It had rose extract in it," Lamancusa said. "I thought if there could be roses in cream, there could be tea leaves in powder."
Research revealed that botanical extraction methods don't use high heat or freeze-drying, so he adapted a botanical method into a process that could be used on tea leaves.
The method includes brewing the tea in pressurized water for eight hours, and then moving the tea into a machine that evaporates the liquid. The result is a powder that dissolves in either hot or cold water in under three seconds, according to Lamancusa.
"It's a bit unique in the food space," he said. "There's patented technology behind it — 22 patents. It'd be difficult for anyone else to do what we've done."
Cusa Tea began retailing in June 2017 at local grocers such as King Soopers and Safeway. The brand was quickly picked up nationwide by REI, and launched in Sprouts last summer.
Cusa Tea is now in 1,500 stores and set to double that by year-end.
The single-serve teas come in seven flavors and are sold in packs of 10. Part of the money from the latest funding round will be put towards launching new kinds of "functional" teas, such as decaf or immune support teas, Lamancusa said.
The company operates in a 2,500-square-foot space in Boulder, but Lamancusa said he's looking to triple that space, as well as add to his current team of three, which includes himself.
He said Cusa isn't profitable yet, but "isn't meant to be."
"The business plan wasn't built for it to be profitable right out of the gate," he said. "We're developing a whole new category, so we want to accelerate growth."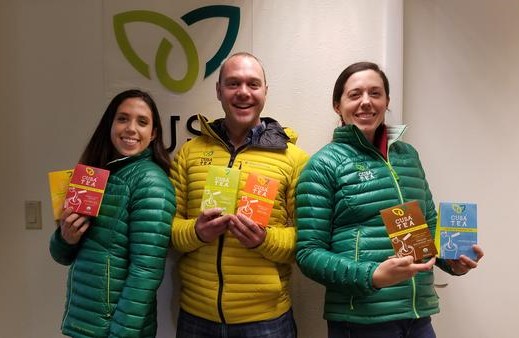 35054