One of Colorado's oldest breweries was shut down Tuesday when Lakewood city officials seized the property over unpaid sales taxes.
The dramatic closure of Ironworks Brewery & Pub in Lakewood was chronicled in a series of tweets sent Wednesday morning by the brewery's official Twitter account.
"After nearly 30 years Ironworks has come to a shameful end," the tweets began.
The tweets claim at 3 p.m. Tuesday, right as the brewery opened for the day, "five armed police officers and a tax enforcement official seized the brewery and changed the locks, and ushered the employees out."
Paperwork visible on the door Wednesday confirmed that the property has been seized for nonpayment of taxes, and is now the property of the City of Lakewood. The warrant for distraint named Mr Mader Enterprises LLC, doing business as Ironworks Brewery & Pub, as the entity in arrears.
Contacted Wednesday, Lakewood spokeswoman Stacie Oulton said that Ironworks owner Mike Mader failed to pay sales taxes to the city for a total of 10 months and owes $15,408.72. That figure includes interest, penalties and fees.
"It's just about the largest delinquent account we have in the city," Oulton said.
The first period of nonpayment was between February and April 2018, after which the city legally could have seized the property, Oulton said.
"Under law, we can seize the business after three months, but we tried to work with him and see what could be worked out," she said.
A second period of nonpayment began in October, and continued until this week's seizure. Oulton said that on two occasions, the city worked out a payment plan with Mader.
"He did a few times submit a couple of checks, but those checks bounced," Oulton said. "He was supposed to come in Monday and make a payment. He didn't pay what was due as of Monday, so we decided to seize the business."
Ironworks opened in 1989; but Mader has owned the business only since 2007, according to his LinkedIn profile.
Comments posted to Twitter between 7:25 a.m. and 7:30 a.m. Wednesday morning claim laundry list of grievances, including "many years of lies, theft, fraud and deliberate financial mismanagement by Mike Mader," and alleged he "cleaned out the safe Sunday night and fled into hiding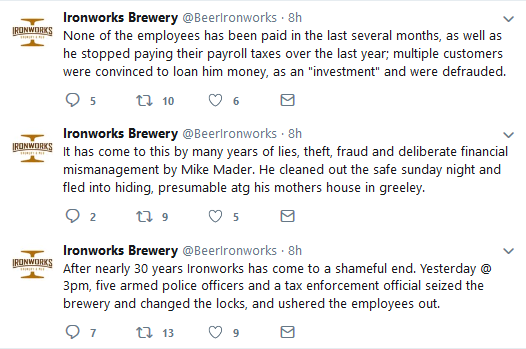 ." The account speculated Mader may have gone to his mother's house in Greeley.

Messages sent to the brewery's Twitter and Facebook pages were not answered, and the business' phone number has been disconnected.

"None of the employees has been paid in the last several months, as well as he stopped paying their payroll taxes over the last year; multiple customers were convinced to loan him money, as an "investment" and were defrauded," one tweet read.

Oulton said the city couldn't speak to the validity of those claims. A reporter was unable to find direct contact info for Mader.

Ironworks said on its website that it is the oldest brewery in both Lakewood and Jefferson County.

34920