Catalyst's neighbor will be called Watershed.
Developer Koelbel & Co., which completed construction of the seven-story Catalyst office building at 3513 Brighton Blvd. last year, said this week that it expects to break ground on a nine-story building adjacent to it next year.
While Catalyst has been marketed toward tenants in the health tech sector, and is home to numerous small companies, the new Watershed office building is being marketed more broadly, to tech companies. Koelbel Vice President Mark Lucas said the hope is to lease its office space to two or three companies.
"I would expect we're going to have leases before we break ground," said Lucas, who negotiates with prospective tenants directly alongside partner Dean Koelbel.
Koelbel is developing the project in conjunction with L&M Capital, an entity affiliated with landowner Larry Burgess. Groundbreaking is expected in early 2020, with completion expected in mid-2021. The Denver Business Journal first reported the plans.
The Watershed building will have about 13,000 square feet of ground-floor retail space, three floors of parking and 167,000 square feet of office space on its upper five floors. It will be taller than Catalyst, and feature about 10,000 square feet of patio and deck space — not included in the 167,000 figure — at the rear of the office floors, looking west over the Platte River.
Catalyst and Watershed will be connected; a covered bridge will go from Catalyst's fourth floor to Watershed's fifth floor. At street level, there will be a broad walkway between the buildings, leading to an activated alley.
The "Watershed" moniker refers to the river, as well as the cascading nature of the patio space. Lucas said it also references the fact that it feels like a watershed moment for the surrounding area, with numerous projects kicking off or in the works, including office building Rev360, the Vib hotel and a 12-story office project from Schneitzer West.
The Catalyst office building is 90 percent leased, Lucas said. Part of the sixth-floor office space is still up for grabs, as is the ground-floor restaurant space. One restaurant tenant — Chicago-based burger chain Kuma's Corner — recently signed for retail space below the parking garage tucked behind Catalyst.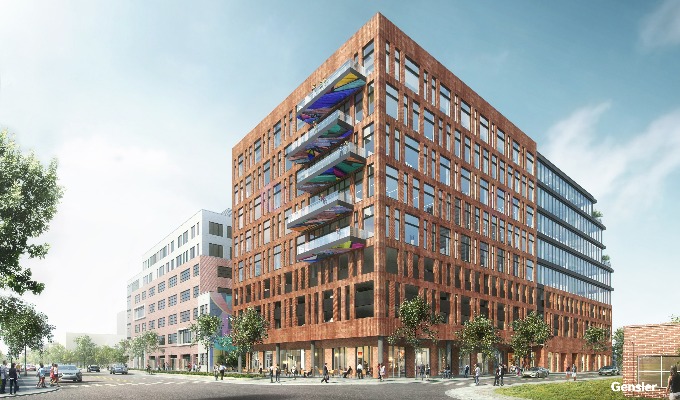 34624