A rugby match held last June at Mile High Stadium between New Zealand and England was meant to be the first step in Jason Moore's plan to bring the sport to North America.
Eleven months later, the Australian sports promoter has landed in bankruptcy court.
Moore Rugby America LLC — a division of the Australian sports agency Moore Sports International that appears to have been created in connection with the June 23 match — filed last week for Chapter 7 bankruptcy protection in federal court in Denver.
Chapter 7 bankruptcies are typically a liquidation process that involves selling off a debtor's assets. The entity, which lists an Englewood office address, said in the May 1 filing that it owes a total of $537,745 to 11 creditors. It reported assets of $8,130, and said it had revenue of $788,551 in 2018.
The creditors owed the largest amounts are England's Rugby Football League, $232,865, and the New Zealand Rugby League, $190,128, according to the filing.
The bankruptcy filing comes months after reports first emerged that Moore had failed to fulfill his financial commitment to the two international leagues for their participation in the match.
Denver was chosen for the event due to its "appetite for sporting events and to experience something new in this city," BBC Sports reported last February. Australian news outlet SBS News reported that about 19,300 people attended.
Moore told SBS News last June that he was encouraged by the match, which he described as "the first step in a journey."
"Rugby league has now arrived in North America," he told the outlet. "The most important thing for us is that (we) do it again and again and again. This is just the beginning."
The 2018 match was intended to be part of a three-year agreement between the two international rugby leagues to play a series of U.S. matches meant to pique interest in the 2025 World Cup. But Moore's failure to pay up led the organizations to pull the plug on future matches, the Herald reported.
It also provoked a change in World Cup plans. Moore's parent company, Moore Sports International, had been awarded the bid to bankroll and promote the 2025 tournament, which the United States and Canada would have co-hosted.
The tournament would have been the first rugby World Cup held outside Europe or Oceania. But the sport's international governing body abandoned those plans in December because of Moore's financial troubles.
"We weren't in a position to go forward under the existing proposition that had been made," Neil Wood, Rugby League International Federation CEO, told the Sydney Morning Herald at the time. "We will be re-tendering that during the course of 2019."
Locally, a handful of entities are owed money for their part in the 2018 match, according to the bankruptcy filing. Billboard advertising companies Mile High Outdoor and Outfront Media are owed $4,550 and $19,500, respectively. Moore Rugby America also owes $5,000 to Stadium Management Co., which manages Mile High Stadium.
Attorney Keri L. Riley of Denver's Kutner Brinen is representing the company in the bankruptcy proceedings. She did not respond to requests for comment.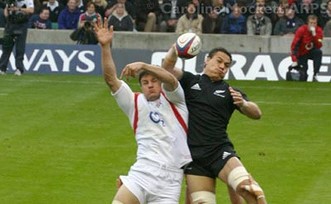 34337