A local businessman is setting out to make one of RiNo's best-kept secrets better-known.
Christian Alavi, co-owner of RiNo liquor store Walnut Liquors, purchased art gallery and speakeasy Millers & Rossi from its founders in February. He doesn't plan to drastically change the business at 3542 Walnut St. — but he does want to make the speakeasy aspect a little less literal.
"Their biggest issue was a marketing issue," Alavi said. "A lot of people really have no idea what it is. The reviews are on point — people have nothing but great things to say about it, but the localized marketing had never been established."
Alavi's first step was to install a sign on the business, which he said the previous owners had decided to forgo in pursuit of a genuine Prohibition-era ambience.
"But this is 2019, not 1919," Alavi said. "Everything we're doing is legal. It's a beautiful space, so I think we should show it off."
Millers & Rossi is at the north end of the Tracks/Exdo building in RiNo. Patrons enter through the art gallery, and some aren't even aware of the business's hidden bar, Alavi said.
Access to the speakeasy is behind a second door, vaguely disguised as an art print. There, patrons can enjoy craft cocktails and a selection of hors d'oeuvres prepared by Chef Francisco Martinez, who is staying on with the new ownership.
The speakeasy's food and drink menu won't change. Drinks include classics such as an Old Fashioned, a Cosmopolitan and an El Diablo, as well as a Prohibition-era cocktail Bee's Knees made with gin, honey and lemon juice. Drinks range from $10 to $12, according to its website.
Alavi has some changes in mind for the art gallery, which will be led by the business's new art curator Cody Goodson.
"We're going to make it a more interactive art gallery," Alavi said. "I thought it'd be cool to have some things you can walk through or touch or feel."
Likes founders' work
Alavi also plans to ramp up events at the space, focusing on small corporate events or private parties.
"It's a great medium-sized event space," he said. "Just a beautiful build out — I can't talk enough about what those guys did."
Millers & Rossi opened in April 2017, a creation of brothers Dustin and Casey Miller, as well as partners Rafael Depaz and Aaron Bodrog. The "Rossi" in the name came from a friend who is no longer involved in the project, according to Westword.
Dustin and Casey represented both sides of the business — Dustin is a local photographer who served as the gallery's curator under its original ownership, and Casey is a chef and was behind the speakeasy's menu.
Alavi said the previous owners would have closed the business had he not purchased it.
Previously, Alavi was responsible for bringing the barbershop-slash-saloon chain Scissors & Scotch to Denver in 2016. He recently sold that business, but is "always looking for new opportunities," which led to his interest in Millers & Rossi.
Alavi and his sister, Nastassia Janes, also own Walnut Liquors a block away at 3729 Walnut St. He credits her help as the reason Millers & Rossi was able to stay open during the transition.
Millers & Rossi is open six days a week (closed Tuesdays) starting at 5 p.m. The gallery closes at 1 a.m. and the speakeasy remains open until 2 a.m.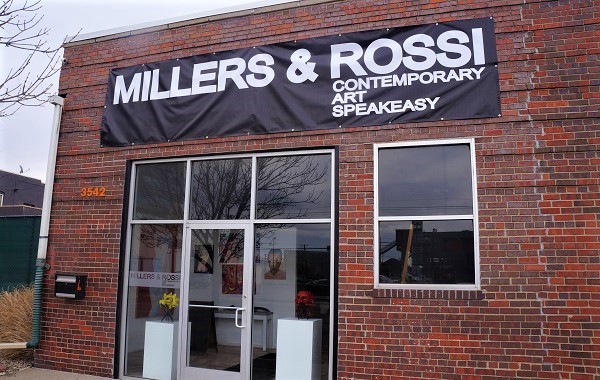 32687