A block-long redevelopment project in Park Hill that made headlines last year over a land-swap deal with the city is underway.
Denver-based HM Capital, led by Ben Maxwell, broke ground in January on Park Hill Commons, a project in the 2800 block of North Fairfax Street that is slated to incorporate 43 new residential units, along with coworking and retail space — with a city park in the middle.
The park component attracted some controversy last year, when HM Capital sought approval of a deal to give the city the parcel for the park (and $650,000 to partially fund its development), in exchange for a similarly sized city-owned parcel across the street. Some nearby residents argued against the deal, saying the park space within Park Hill Commons wouldn't truly feel public. But City Council approved the deal in late August.
Park Hill Commons, which is being developed on the east side of the block, replaces a few older homes, some of which were unoccupied. HM Capital started buying up property in summer 2016 and closed on the last two lots in January 2017, paying $5.85 million.
McCall Perry, director of real estate operations with HM Capital, said the project will be delivered in stages, with overall completion slated for early 2020.
"Our owner used to live in Park Hill and really just loved this neighborhood, and when building out the design, wanted to put in commercial and retail design," Perry said. "It's still a primarily residential neighborhood, so it made sense to do a mix."
It's not HM Capital's first foray into mixed-used development. The company's Block Forty45 project in Sunnyside also incorporates coworking, retail space and residential units.
Here's a breakdown of the project, designed by Zaga Design Group. Zackery Enterprises is the general contractor.
The residential
On the southern end of the block, HM Capital is building 21 two-story for-rent townhomes, dubbed Fairfax Row. Ranging in size from 1,400 to 2,000 square feet, the three-bedroom and 31/2 bath units all will have underground parking and rooftop decks.
"They're a similar design to the ones we're doing at Block Forty45," Perry said. "It's kind of our signature design. We really like the three-bedroom, three-bathroom layout because it fits a family."
The townhomes are expected to be completed this fall.
On the northern end of the block is Studios at Park Hill Commons, a 22-microunit apartment building designed in a modern farmhouse style. Each unit is 375 square feet and comes with a loft and patio, as well as open common spaces.
"I think we're aiming to provide a mix of sizes to accommodate the needs over there," Perry said. "There's not a ton of inventory or even availability of that small size of properties for rent around the city."
Pricing for the residences have not been determined, Perry said.
The retail and office
Just north of the townhomes, south of the planned park, HM Capital is building a 16,300-square-foot, two-story commercial building. The ground floor will have four 1,500-square-foot retail spaces, while the second floor will offer 10,000 square feet of coworking space, to include executive suites, 20 to 25 private offices and open desks.
"There's not much office space in Park Hill at all," Perry said. "That was another service we are trying to bring to the neighborhood."
The ground floor of the microunit building also will feature retail space — six 250-square-foot units, and four larger units from 1,000 to 2,000 square feet.
Perry said leases have been signed for four of the development's larger retail units, but declined to disclose the tenants.
"We still have four of the (larger) retail suites available for lease," she said. "We're targeting to have a really good mix of different retail tenants," including restaurants, coffee and fitness businesses.
The park
Denver Parks and Recreation is designing the park, which will be located between the microunits and the two-story building, with coworking and retail space. A public meeting about the park will be held at the Boys and Girls Club in Park Hill on March 12.
Correction: A previous version of this story incorrectly stated that the townhomes would be for sale. They will be rented out.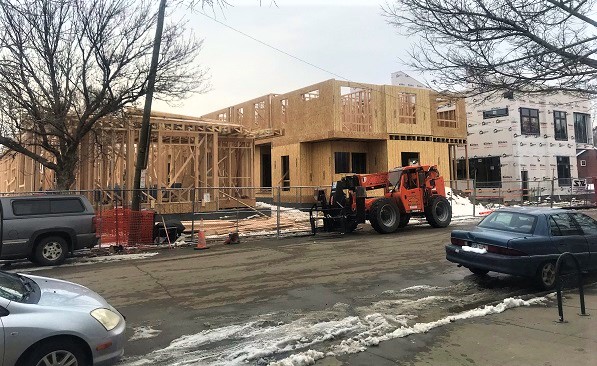 32601