A new brewery is preparing to take off in Berkeley.
Aviation-themed FlyteCo Brewing, once slated to be called Aero Craft Brewing, will open at 4499 W. 38th Ave. on March 2.
The brewery signed a 10-year lease in 2017 for the space just west of Tennyson Street, which previously housed an auto repair shop. Since then, owners Eric Serani, Jason Slingsby and Morgan O'Sullivan have been waiting on permits and building out the unit.
Serani is a mechanical engineer and president of FlyteCo Brewing. He began homebrewing in college with Slingsby, a chemical engineer and FlyteCo's head brewer. Both men are pilots.
Eventually, Serani moved next door to O'Sullivan, and the three started throwing massive outdoor parties, with Serani and Slingsby providing the beer. It was about four years ago, Slingsby said, when the trio realized they could do this for a living.
"We had this big, 150-person party in our backyard," said O'Sullivan, chief of operations for FlyteCo. "Jason made the beer, Eric made it happen, and I brought the people. That got us thinking that maybe we should take this to the next level."
Thus began two years-plus of searching for the right location, according to Serani.
"We looked all over the place," he said. "We got close a few times, but every time, it didn't feel right."
Serani, Slingsby and Morgan looked around neighborhoods such as RiNo and LoHi, but eventually turned away from the brewery-heavy neighborhoods.
"We kind of realized through that process that location, especially in this competitive market, is truly everything," Serani said. "We really wanted to be part of a community. So when we found this historic building so close to Tennyson, we realized this was the community we've been searching for."
"It's the right saturation level, where there are enough breweries, bars and restaurants nearby to draw people to this neighborhood without overcrowding it," O'Sullivan said.
The 4,900-square-foot space used to be Merkl's Automotive repair shop, which moved to Wheat Ridge in 2016. In the suite next to the brewery is the first brick-and-mortar spot for Barbed Wire Reef, a food truck operation that specializes in exotic meats.
"All of our renovations have pretty much been interior," O'Sullivan said. "We took out a wall that separated the space when it was a garage."
Fuselage is hard to miss
Inside, they've added a massive fuselage to hang over the main seating area, and plan to add tables fashioned from a plane tail. The bar is adorned with pieces of Marston Mat, steel material that was used to create temporary runways during World War II.
They've also installed a 15-barrel brewing system and four fermenters, which will supply the brewery's rotating menu of about 12 beers.
"It should allow us to keep up with demand, but we still have room to grow if we need it," Slingsby said.
The brewery's taproom, which will not serve food, will be open from 3 p.m. to 10 p.m. every day, and may stay open later on weekends.
The brewery was funded through a combination of bootstrapping, bank loans and investments, Slingsby said. They've hired eight bartenders, but O'Sullivan said for at least the first year, FlyteCo will be "the true definition of owner-operated."
To the owners, FlyteCo is about "sharing the wonder" of aviation, as well as providing a place for the community to hang out.
"We really wanted the space to be something that's very unique, that you haven't seen before," Slingsby said. "This is not something that you find everywhere."
They wanted a space big enough for aviation equipment, but could be easily broken up into a space suitable for live music or other events.
"The little details matter," Serani said. "The atmosphere, the ambience — that's what sets you apart as a taproom."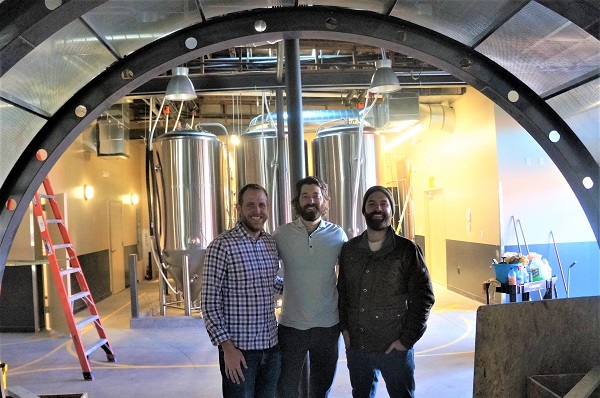 31956