Muscling its way into the southern suburbs is a California-based fitness company that's looking to replace defunct retailers with treadmills and ellipticals.
San Diego-based Chuze Fitness plans to open two new giant gyms — 40,000 and 50,000 square feet, respectively — at 200 W. Belleview Ave. in Englewood and 9449 S. University Blvd. in Highlands Ranch in June.
Consistent with its five existing locations in the metro area, Chuze is taking over spaces previously occupied by big-box retailers. The Highlands Ranch club most recently was a Ross and Staples, while the Englewood location was a Kmart.
Chuze entered the Denver metro market in 2016, first in Westminster and then Thornton. So far, the company has stuck to the suburbs.
"It all depends on availability and space," CEO and founder Cory Brightwell said. "We might occasionally find the square footage in Denver proper. Sometimes when you get too into the urban areas, there's not enough parking to accommodate our use. That doesn't mean we still won't be able to eventually find some opportunities in Denver."
Brightwell said it costs between $4 million and $4.5 million for each gym's buildout and equipment. He declined to disclose rent at either new location.
Chuze has hired Epic Construction and G3 Architecture for the buildouts.
Beyond basic gym equipment — cardio and strength machines as well as free weights — Chuze's new facilities include a large turf training field, three-lane Olympic-length pool, hot tub, saunas and a steam room. They'll also have what Chuze calls a cardio cinema, where members work out on treadmills, ellipticals or other cardio machines as a movie plays on a large screen in front of them.
"Instead of seats, you have cardio equipment in there," Brightwell said. "It helps your 45 minutes of cardio go by quicker when you're watching 'Gladiator' on the big screen."
The gym also provides group fitness classes, including Zumba, yoga, kickboxing and cycling. One of Chuze's signature classes, according to Brightwell, is a 60-minute cardio and strength class, where members are hooked up to heart-rate monitors and can track the calories they burn.
"It's a great technology-based workout in a team environment," he said.
Parents working out can leave their kids at Chuze's 2,000-square-foot space as well, Brightwell said.
Brightwell plans to hire 30 to 40 employees and 20 group class instructors for each gym.
Chuze isn't the only fitness company replacing big-box retailers; Utah-based Vasa Fitness does so as well. Brightwell thinks customer service and cleanliness differentiate his brand from the others.
"The interactions that we provide are very focused on making sure our members feel welcome," he said. "I always like to say that we're a hospitality company that uses fitness as our vehicle."
Chuze isn't done testing its strength in the Denver market.
"Hopefully we can get to the 12 (gym) market over time over the next couple years," Brightwell said, adding Denver-area Chuze gyms typically have between 8,000 and 12,000 members each.
Memberships cost between $10 and $40 a month.
Chuze has 25 gyms in California, New Mexico, Arizona and Colorado. Brightwell expects to open eight to 12 locations per year for the next three years, with his eyes mostly on Southwestern states.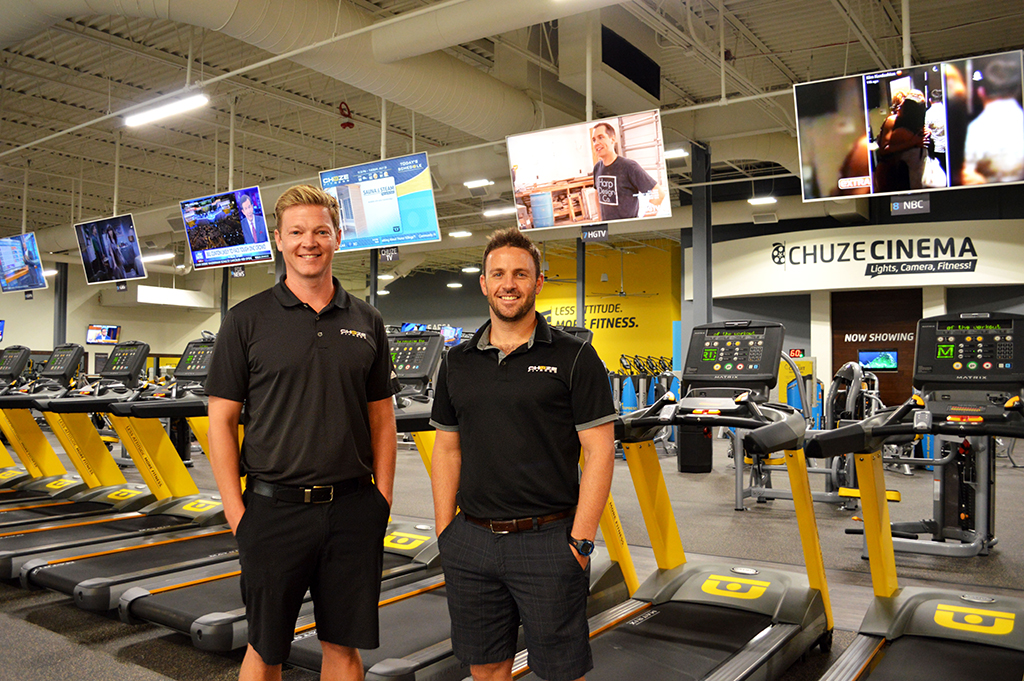 31552