An advisory committee convened in June by the owner of Larimer Square disbanded in December without reaching a consensus regarding the street's future, and the public will be asked to weigh in over the coming months.
Owner Jeff Hermanson and development partner Urban Villages formed the Larimer Square Advisory Committee after criticism of a plan to build two new structures along the street, the city's first commercial block.
City ordinance currently caps building heights on the block at 64 feet, and both of the proposed structures would have exceeded that.
Jon Buerge, chief development officer for Denver-based Urban Villages, said the committee met six times, with its last meeting on Dec. 13. The meetings were not open to the public. Notable committee members included Denver City Councilmen Albus Brooks and Wayne New, as well as Annie Levinsky, executive director of Historic Denver, and Dana Crawford, who owned the block before Hermanson.
Last June, Levinsky and Crawford wrote in an op-ed that the two proposed structures "would destroy the block's integrity and scale, reduce the historic buildings to kitschy, storefront facades, and open a Pandora's box on the future of more than 400 historic landmarks and districts in Denver's neighborhoods." The same month, the National Trust for Historic Preservation named Larimer Square one of the 11 most endangered historic places in America.
Buerge said the committee was an effort to bring to the table those with concerns about the project.
"Our goal was to dive into details and explore the concerns and opportunities with a group of very involved stakeholders," Buerge said.
"While Larimer Square is a privately owned property, it's a public asset."
Original redevelopment plan dead; public input to be sought
In June, when the committee was convened, Hermanson and Urban Villages said they'd "taken a step back" from the plan to add two new structures. In a Tuesday interview, Buerge confirmed the parties no longer were pursuing it.
That plan has not been replaced with a new proposal. Instead, Buerge said the parties are seeking more input. They plan to present to local neighborhood associations and hold town hall meetings for the public.
Additionally, Hermanson and Urban Villages plan to open a "community engagement center" on the street within 30 days. The center will have information about the history of the block, the challenges facing it and opportunities for the future. Visitors will be able to provide feedback.
"The process is really intended to reach a broad spectrum of people," he said.
Costs of needed renovations prompting discussion of street's future
On Tuesday, Buerge reiterated why Hermanson and Urban Villages are discussing the site's future. He said the buildings along the street — many of which are more than a century old, and home to restaurants and retailers — need significant renovations. The buildings have been maintained through the years, he said, but still need a significant amount of work.
Buerge said that even accounting for possible tax credits and grants, it's not financially feasible to just renovate the existing structures. He said adding density to the block is a way to make the renovations financially feasible.
Buerge said renovation cost estimates and financing possibilities were shared with the committee. He declined to release those figures to BusinessDen, saying they were shared along with financial details he wanted to remain confidential.
Levinsky, of Historic Denver and a committee member, described the cost estimates presented to the committee as lacking. In a Tuesday interview, she said they were far less detailed than those included in a "historic structure assessment" completed in connection with the redevelopment of Union Station.
"The cost estimates we saw were much higher-level, much bigger figures," she said. "They weren't transparent that same way."
Levinsky said much of her organization's concerns about the proposal revolved around the 64-foot height restriction, which has been in place for decades. If Hermanson and Urban Villages are allowed to circumvent it, it would signal such restrictions "are no longer a priority of the city."
"If you eliminate that … you're signaling to all the other historic districts in the city that their protections are not what they thought they would be," Levinsky said.
Levinsky said Historic Denver doesn't think Larimer Square should be "frozen in time," but that there is a way to alter it "within the spirit and intent of those protections."
Demo now a less-attractive option
The original proposal called for one new structure to be added to each side of the block. The structures wouldn't have had frontage along the street, but rather been tucked behind the existing buildings, some of which would have been partially demolished.
Buerge said Tuesday that Hermanson and Urban Villages are now trying to avoid that.
"Our goal is to reduce partial demolition, if not to avoid it altogether," he said.
Buerge said there were aspects of the original redevelopment proposal that had wide community support, including about 130 permanently affordable housing units, more than an acre of rooftop green space and a public alley with access to small retail shops.
"There were a lot of things that were included in that original plan that were really focused on people," he said.
Buerge said there isn't a timeline for when a new architectural plan could be finalized. He said Hermanson is committed to finding a long-term solution, not continuing patchwork renovations to buildings along the block.
"We're at an important point in Larimer Square's history," he said. "We don't want to face these challenges again in 10 years."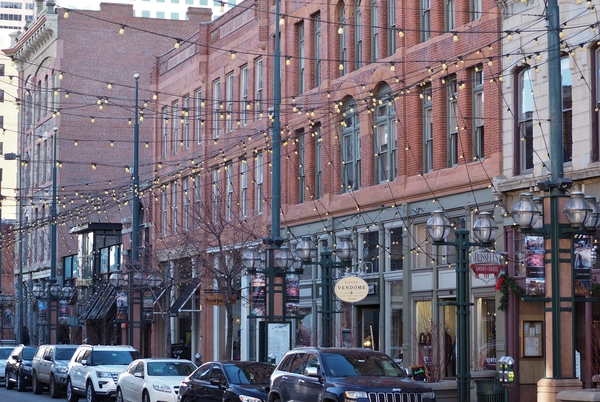 30983