A mobile dog training business has sniffed out a brick-and-mortar location.
Canis Major Dog Training will open next month at 601 N. Bryant St. in Sun Valley, after two years of training dogs in clients' homes.
The 7,600-square-foot facility will allow the business to expand its training services, according to Usra Acree and Kimberly McRae, who founded the business in April 2016.
"We've always wanted to open a brick-and-mortar, but it took us a long time to find something that fits our needs," Acree said.
The facility features a 3,500-square-foot warehouse space the business calls its "gym." A portion of the space will serve as a kennel area, and the front of the building will have two private consultation offices, a lobby with retail options and a kids' play area.
In addition to private training, in which a trainer works with a dog one on one, Canis Major will now offer group classes and "puppy socials" — both of which are designed for an owner to stay and participate — as well as two additional programs in which dog owners drop off their dogs to be trained. These two programs operate similarly to other dog day care and boarding programs, but with the spotlight on training, the pair said.
Acree and McRae are both from Louisville, Kentucky, and met in 2007 at the Kentucky Humane Society, where Acree was working as behavior manager and McRae was a volunteer.
Acree moved to Denver in 2010 to work as behavior manager for the Dumb Friends League. Five years later, she convinced McRae to quit her job in software development, move to Colorado and start a dog training business.
Acree has been training dogs since 2001, she said. Before securing the facility, McRae also worked as training and behavior coordinator at the Humane Society of Boulder Valley, but now both founders are working on the business full time.
They said a cornerstone of the business is a training guideline called the "least intrusive, minimally aversive" philosophy.
"It's an ethical guideline for what training methods we're going to use with dogs," Acree said. "We're always going to start with the thing that's least intrusive for the dog, so we first look at how we can change the environment to help the situation."
This involves seeing if the dog's physical needs are being met — if the dog is in pain or has underlying medical issues, this could be the cause of the bad behavior, she said.
"Then we turn to classical conditioning solutions, where we identify triggers and do some positive reinforcement training," Acree said. "We want dogs to develop new responses in response to a trigger instead of the problem behavior."
A no-fear approach
Acree and McRae were the first certified "fear-free" trainers in Colorado, they said. They say this method allows dogs to choose to participate in their training and care rather than be forced.
"When dogs face stress, pain or fear, it has unintended fallout," McRae said. "We don't explicitly rule out aversive training, but we don't use tools that cause pain. Aversive training is always our last resort."
To provide this personalized attention, the business never will have more than seven dogs in the facility at any given time, McRae said.
With the move to a brick-and-mortar, Canis Major now has a staff of seven. There will be four trainers, including Acree and McRae, who said all are certified by nationally accredited organizations.
"Dog training is a completely unregulated field with a low barrier for entry," Acree said. "So anyone can say they're a dog trainer and can basically do anything to a dog in the name of training. We make sure we're able to present the evidence and explain why it works."
The pair said the business has been profitable since its beginning.
"People are really paying for our expertise," Acree said. "We're both certified trainers through two of the most respected organizations globally. It is a luxury service, but we also try to make it affordable."
The price of private training won't change at $100 for an hour of obedience and behavior coaching. Day training costs $119 per day, and Board & Train services start at $1,199 per week. Thirty-minute "puppy socials," designed to socialize dogs under 18 months, cost $9, and group classes go for $149.
Canis Major still will offer in-home training within an eight-mile radius and for a travel fee of $30. The business is offering limited services before its Jan. 15 hard opening.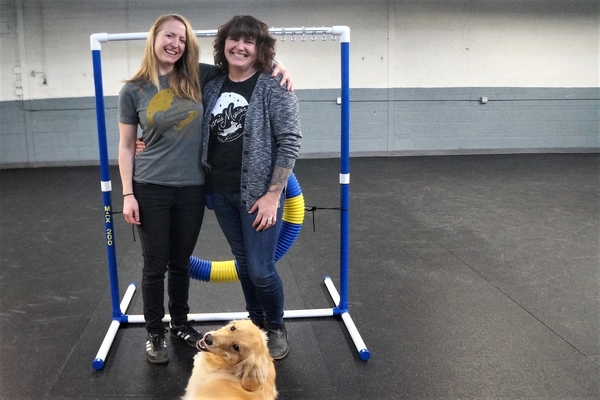 30687