RiNo will soon say "I do" to another bridal shop.
The Lovely Bride plans to open in 2,000 square feet at 2636 Walnut St. in February, according to franchise owner Carly Rowader.
The new location, between Matthew Morris Salon and Skincare and 10 Barrel Brewing, will replace the 1,500-square-foot unit at 3377 Blake St. where The Lovely Bridge has been operating since August.
Rowader, 30, said she signed a five-year lease for the new location. The Lovely Bride was founded in 2010 by New Yorker Lanie List and currently has 17 locations in major cities across the county. All but five are owned by franchisees, Rowader said.
Rowader said the brand started as an alternative to traditional "New York-style" wedding dress shops.
"The founder wanted to provide a more intimate boutique, indie feel, with up-and-coming designers," she said. "We have a broad range of styles, ranging from bohemian, to classic and timeless, to chic and modern. We try to capture every bride's style."
Each wedding dress designer is unique to The Lovely Bride, according to Rowader. To shop at the store, brides make an appointment and fill out an online questionnaire that matches them with a stylist. They can also browse store-specific dresses online and request that they be pulled for the appointment.
Though Rowader plans to hire three stylists at the new location, it's currently just her at the store.
"I try to tap into how they really want to feel about themselves," Rowader said. "I think movies and television teaches us that we need to know exactly what style we want, but what makes a bride go from shopping to purchasing is how the dress makes her feel about herself. My approach taps into that kind of bridal therapy."
The website for the brand's Denver location lists 12 designers and dresses ranging from $1,300 to
$7,000.
"We don't believe in hiding prices," Rowader said. "Most bridal shops don't do price per gown, they have a price range per designer. It's an important decision financially and we want to make sure everyone knows what they're getting themselves into."
The Lovely Bride's new home is within ten blocks of two other bridal shops — Emma and Grace Bridal Studio and Little White Dress Bridal Shop — but Rowader said that's a positive.
"I think that'll be beneficial for all of us," Rowader said. "Brides will often go to a bunch of appointments in one day, so being close in proximity is valuable."
The Denver store will be The Lovely Bride's only location in the state, according to Rowader.
"We're very metropolitan-exclusive," she said. "We're not trying to be David's Bridal."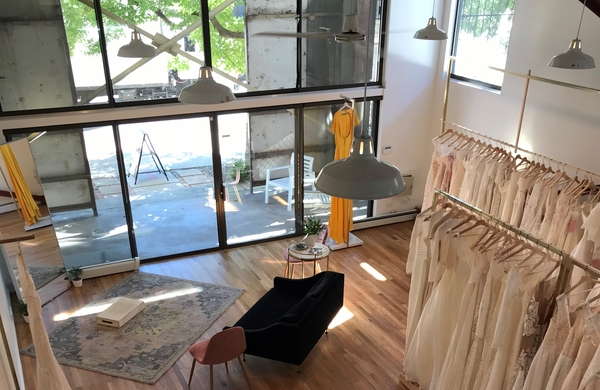 30677