Denver residents who want to rent out their car now have one more option.
Getaround, a peer-to-peer car-rental app, launched today in the Mile High City.
"Cars sit idle for over 90 percent of the time in the city," said Zach Houck, general manager of the Denver market for Getaround. "We want to provide a transportation solution and an economic solution for our users."
The San Francisco-based company allows car owners to list their car for rent on its mobile app by uploading a picture, setting an availability schedule, and entering a description of the car. Users renting their car must install a device called Connect, which connects the vehicle to the app. Getaround charges $99 for the Connect installation, according to its website.
Houck said that Connect allows renters to access the car remotely by unlocking it with their phone. The technology also adds security features such as GPS tracking, tamper detection and engine lock, according to Getaround's website.
Renters can search for cars on the mobile app according to criteria such as features, size, and time available. Houck said that owners leave their keys in the car for renters to use after unlocking the car with Connect.
Owners set a location in the app for pickup and drop-off, but as of launch, Houck said these locations must be based in the "core downtown area."
According to Houck, users can rent cars for anywhere from an hour to a week. Rates are determined by the condition and type of car, and can increase in response to demand, such as on the weekends.
"It could be as low as $5 an hour for a Prius, but it could be significantly higher for a Tesla," Houck said. "Usually, the sweet spot will probably be around $10 to $15 an hour."
Renters are responsible for fuel and are asked to return the car as the same fuel level as when it was picked up, or face a charge for fuel and inconvenience fees.
In addition to the $99 Connect installation fee, car owners also pay $20 a month to list their car through Getaround. The company's website said it takes a 40 percent cut of rental earnings, which covers insurance, roadside assistance and a help desk.
City has other options
Denver residents looking to rent out their vehicle already have a couple other options. Another San Francisco-based car rental company, Turo, operates on a similar model, but requires both parties to meet to hand off keys. HyreCar, another peer-to-peer car rental platform operating in Denver, has a 24-hour turnaround between a renter's application and car pickup, and appears to target individuals who want to rent cars to drive for Uber or Lyft.
And locals who want to rent a car for short periods also can turn to Car2go and Zipcar, which have been in Denver since 2013, or Maven, which has had a local presence since 2016. Each of those brands have their own small fleet of company-owned vehicles placed around the city.
"All the cars in our platform are owned by people in the community," Houck said of Getaround. "We're utilizing cars that are already here — and we're utilizing them better."
Getaround was founded in 2009 by Sam Zaid, Elliot Kroo and Jessica Scorpio, who were looking to "solve a problem for a million people in one day," according to Houck. The company now operates in about 90 cities.
In August, the company announced that it received $300 million in investments from Japan-based SoftBank, as well as Toyota Motor Corp. and other inside investors.
Locally, Getaround operates in WeWork in the Triangle Building at 1550 Wewatta St. Houck said he's one of six local full-time employees, in addition to some part-time staff.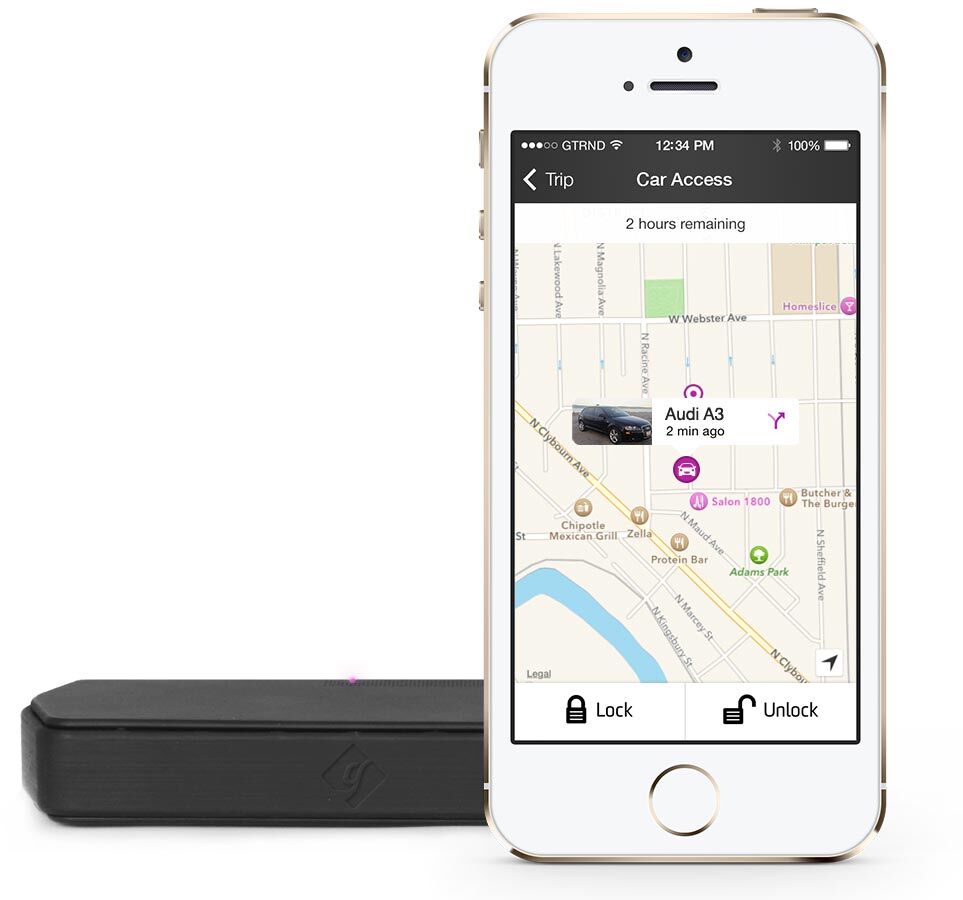 30297