The city of Denver is looking to spend $6 million on an industrial site in Globeville, with the idea it then would find a developer that would build income-restricted housing there.
City Council's Finance and Governance Committee voted 6-0 last week in favor of buying 4995 Washington St., a 2.69-acre property that is currently home to a car dealership.
Jeff Steinberg, director of the Division of Real Estate in the city's Department of Finance, said the property has been appraised at $6.18 million.
The proposed purchase still needs City Council approval. It values the land at $51.29 a square foot.
Jeff Romine, chief economist with Denver's Office of Economic Development, told the council committee Tuesday that the office has been looking to purchase property in the area for about three years.
He said the search has revolved around three needs that have been identified for the area: affordable housing, neighborhood retail space and flex space that would be usable for advanced and craft manufacturing, which has become scarcer as areas such as RiNo have been redeveloped.
The hope has been to secure a property that can address at least two of those needs, Romine said.
The 4995 Washington St. property is at the southwest corner of Washington Street and 50th Avenue. It is owned by Vincent Salzano, who acquired it from a relative, Armando Salzano, who purchased it in September 1986 for $330,000, according to records.
The city's proposed purchase agreement is with TRE 4995 LLC, which is slated to buy the property and then immediately sell it to the city.
The city likely would put out a request for proposals from developers in summer 2019, with the goal of starting construction at the site in late 2020, Romine told the committee.
Although the city does not have a specific development in mind, Romine told the committee that the site ultimately could house more than 50,000 square feet of retail and flex space, as well as 200 residential units, which likely would be for rent.
"This is a catalytic, this is an opportunistic purchase of a property that we think has a viability within its price to be able to do those types of activities on it," Romine said.
The city is doing something similar on East Colfax, where it has issued requests for redevelopment proposals for two sites it purchased in 2017.
It's likely that the Globeville redevelopment would involve two buildings, topping out at four or five stories, Romine said.
The site is zoned I-MX-3, which allows mixed-use projects up to three stories. Romine said the city hasn't decided whether it would seek to rezone the site immediately after purchasing it or wait for the development proposals.
The purchase would be financed with federal Community Development Block Grants, which Romine said would require at least 50 percent of residential units built at the site to be restricted to those earning less than 80 percent of the area median income. The city could further tighten that restriction.
Steinberg said that several larger efforts are poised to bring changes to Globeville.
"You're directly across the street from the billion-dollar investment that the city is putting into the National Western Center," he told the committee. "You've got the highway being dropped, which is going to connect the Globeville, Swansea, Elyria neighborhoods. You've got Washington Street, which is going to be streetscaped and widened a little bit. So there's a lot of inertia and desire in this area."
Steinberg said the city previously tried but failed to purchase two nearby properties, 4800 and 4920 Washington St.
The former ultimately was purchased, along with two smaller parcels, for $10 million by Tributary Real Estate and Leuthold Commercial Properties. When the deal closed this year, the parties said they had "no current plans for long-term development."
The latter, a 4.3-acre site, was purchased for $7.1 million by Alberta Development Partners, which also has not disclosed redevelopment plans.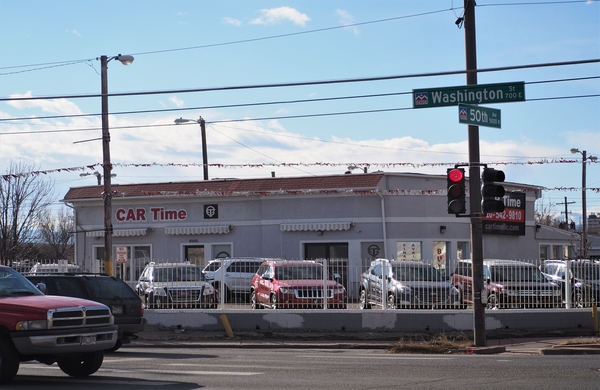 30231