A former executive of a Denver-based cryptocurrency lending startup claims in a recently filed lawsuit that it is being investigated by the federal Securities and Exchange Commission.
And that's just the start of his grievances.
David Lechner sued Salt Lending Holdings Inc. in Denver District Court last week, accusing the 2-year-old startup of wrongful termination while simultaneously alleging executives covered up hackers' theft of millions in cryptocurrency, issued self-serving loans to family and put an outpost in the Indian Ocean in a country that has lax financial regulations and no extradition agreement with the United States.
"Defendants have placed their personal interests above those of Salt, its members, its borrowers, and its shareholders," Lechner said in the lawsuit.
Jennifer Nealson, Salt's chief marketing officer, declined to comment on the specifics of Lechner's claims.
"While we have not yet had the opportunity to fully review the allegations made by the past employee, as a matter of policy we do not comment on employment matters," she said in a written response to BusinessDen.
Salt confirmed the company is being investigated by the SEC, according to a Wall Street Journal story.
"The SEC commenced investigations and issued subpoenas to many high-profile crypto currency companies requesting information to better understand the industry and any potential need for additional regulation," Nealson wrote.
Colin Barnacle with Akerman is representing Lechner in the complaint. Barnacle and Lechner both declined to comment.
Plaintiff worked at Salt for less than a year
Salt, founded in 2016, provides crypto-backed cash loans to its customers. Nealson said the company, which expanded its office presence on 17th Street in downtown Denver to 25,000 square feet earlier this year, has around 70 employees.
According to the lawsuit, Lechner began working at Salt in July 2017 as a "senior financial advisor." On his LinkedIn page, Lechner describes his role as chief financial officer.
Lechner's lawsuit names as defendants the company and four current or previous Salt executives: Shawn Owen, Gregory Bell, Benjamin Yablon and Blake Cohen. Neither Yablon or Cohen responded to BusinessDen requests for comment.
Lechner was put on administrative leave in April, according to the lawsuit. Nealson confirmed that as of June 2018, Lechner no longer worked for the company.
A token offer
Salt sold $47 million in Salt Tokens to the public through an initial coin offering that launched in June 2017, according to the lawsuit. Companies that create a cryptocurrency launch an initial coin offering, similar to an IPO, for investors to purchase the new coins.
Lechner alleges that it was his refusal to return Salt Tokens that led to his termination. In April and May, Cohen, Owen and Bell demanded that Lechner return his Salt Tokens, the company's own form of cryptocurrency that Lechner received as part of his initial employment agreement. In July, Lechner's Salt Tokens were valued at $12.1 million, according to the lawsuit.
The lawsuit claims Salt prevented Lechner from redeeming his Tokens for cash. The balance Lechner eventually recovered was approximately $300,000, according to the lawsuit.
In February, Salt and a related entity, Salt Blockchain Asset Management, received subpoenas from the SEC, according to the lawsuit.
"Salt is currently the subject of an SEC subpoena and investigation with regard to its failure to register the Salt Tokens as 'securities' and other related matters," the lawsuit says.
The SEC declined to comment.
Suit: Exec's failure to change password resulted in massive theft
In October 2017, according to the lawsuit, a hacker gained access to Salt's Mailchimp account and captured 60,000 email addresses and personal information of Salt members, as well as emails that contained information such as password resets.
The lawsuit said Bell never reset his Slack password after the hack, and the original attacker is believed to have monitored the account for months, then executed a "cybertheft" in February, pilfering nearly $4 million worth of Ethereum, a type of cryptocurrency.
The lawsuit said Salt never reported the original hack and subsequent theft to any outside parties, including law enforcement.
The lawsuit said Salt hired a law firm to investigate the original hack, then terminated that work prior to completion "for no apparent reason."
Salt's relationships with law firms are often short-lived, according to the lawsuit, which alleges the company has hired 25 separate firms since summer 2017.
The lawsuit also alleges that the company's general counsel is not licensed to practice law.
Co-founder now lives near Madagascar
According to the lawsuit, in August 2017, Benjamin Yablon, co-founder and now chairman of Salt, moved to Mauritius, a small island country off the coast of Madagascar.
Lechner and others questioned Yablon about the move, and "were told it would be 'beneficial' to Salt's lending platform from a tax perspective and that Mr. Yablon felt that he could garner additional ancillary benefits from these government officials," the lawsuit says.
Lechner later learned Mauritius has no extradition treaty with the United States, in addition to lax financial regulation, according to the lawsuit.
After moving to Mauritius, Yablon began asking Lechner to approve large payments — $371,000 in one case — to other Mauritius residents, saying they would make "favorable introductions" to local officials, the lawsuit says.
The lawsuit claims that Yablon agreed to smaller payments to the individuals after Lechner pushed back, but that other Salt executives began to exclude Lechner from important company decisions and information, and that he began getting paid less.
The lawsuit characterizes Yablon's actions as potential violations of the Foreign Corrupt Practices Act, which prohibits bribing government officials.
Salt's Nealson confirmed that Yablon lives in Mauritius, "where he and his team are pursuing our vision to expand our global offering."
CEO of other Denver crypto company mentioned
The lawsuit also raises questions about Erik Voorhees, founder and CEO of another Denver-based cryptocurrency company called ShapeShift.
"Mr. Voorhees was identified to investors as a member of Salt's 'board of directors', which appears to be a violation of Mr. Voorhees' settlement with the SEC on or about June 3, 2014 related to his unregistered offering of bitcoin-related securities," the lawsuit says.
"In the settlement, Mr. Voorhees agreed that he will not participate in any issuance of any security in an unregistered transaction in exchange for any virtual currency including Bitcoin for a period of five years," the lawsuit says.
Voorhees' role was highlighted in a story last week by the Wall Street Journal. In September, the newspaper published an investigation titled, "How Dirty Money Disappears Into the Black Hole of Cryptocurrency," which concluded ShapeShift has processed millions of dollars worth of digital currencies belonging to suspected criminals.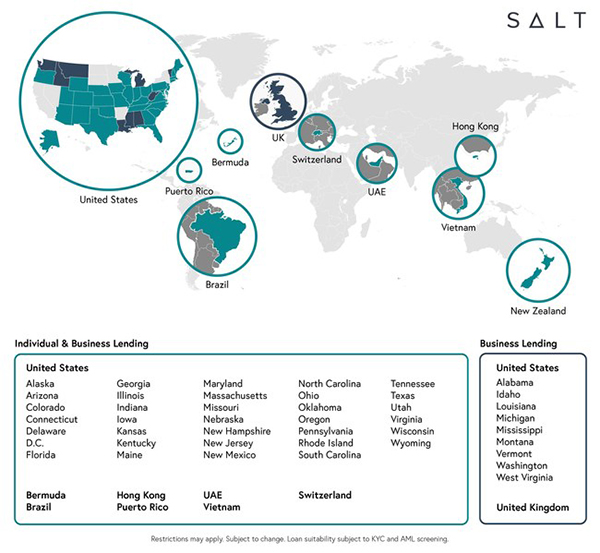 29966