A Denver entrepreneur is hoping his new brand of high-end luggage will land on some wish lists this holiday season and ease the stresses of winter travels.
In June, Alex Gobel and three partners launched Vesica, a line of carry-on and checked-size bags retailing for $229 to $279, with features like a built-in charger for electronics and an accompanying app.
Last week, Gobel said the company is on track to sell 1,200 pieces of luggage by year-end, and he expects revenue of $2.5 million to $3 million in the first full year.
"We wanted to make the consumer the hero of the story," said Gobel, 32. "So it's not about our luggage; it's about the traveler and how can we make their travel more efficient and enjoyable."
It's Gobel's second entrepreneurial venture. At 21, he launched JammyPack, a line of portable speakers targeting 15-to-25-year-old outdoor adventurers. With Vesica, he's targeting an older demographic.
"I wanted to build a brand that really embodied who I was as a person, where I've been and what I'm doing now," he said.
The luggage company takes its name from vesica piscis, the mathematical shape formed by the intersection of two discs.
$200K to launch company
Gobel, who is CEO of Vesica, founded the company with partners Dylan Lucas, Jonathan Sax and David Cook. He said they spent about $200,000 launching the company, with investments from family and friends.
The brand's carry-on bags are its most popular, and feature a built-in lithium ion battery capable of charging an average phone five to seven times before the battery needs replacement. The battery is removable, to comply with FAA and TSA requirements.
The carry-ons are made of a polycarbonate shell, and feature separate compartments intended for a laptop and a toiletry bag, both of which generally are removed as part of the security screening process.
Vesica also offers a larger luggage option for travelers who need to check their bags. These do not have charging ports — lithium ion batteries are not allowed in cargo holds due to fire hazards — but are made from the same material and can be outfitted with a GPS tracker for an additional charge.
Gobel said the bags are manufactured in China.
The luggage is just one part of the brand, he said. Gobel and his team also created an accompanying app, which he compared to others such as MapMyRun and Strava, saying it represents a "gamification" of travel. The app tracks statistics such as miles traveled, time in air and destinations visited, which users can share with others.
"Now you can build your social circle and then gauge what you're doing compared to what your friends are doing," Gobel said.
The app, which also can be used by those who don't own Vesica luggage, organizes travel plans, grouping flights into past, current, and upcoming. For the latter, the app lists weather information at the traveler's destination, as well as any schedule changes.
Gobel said the app also tracks a user's behavior and location history, which allows it to suggest restaurants and other attractions of interest, and keep users updated on airport information.
"Say you're landing at LaGuardia and it's going to take 45 minutes to get your bag; we want to tell you that," he said. "That way you can use those 45 minutes to do something productive, whether that's getting your coffee, getting organized or using the restroom."
This idea has become the company's ethos.
"If we can sell our customers the one thing you can't buy, which is time, we feel like we've won," he said.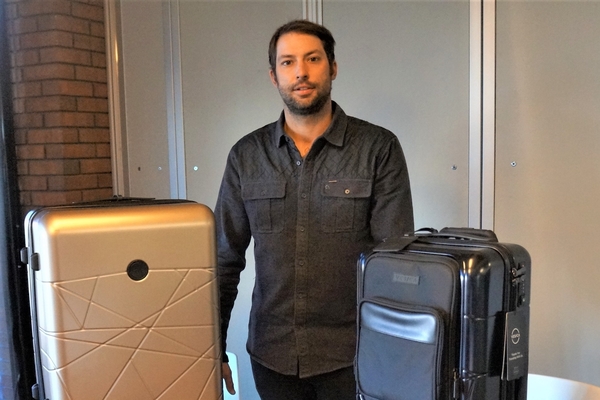 29838