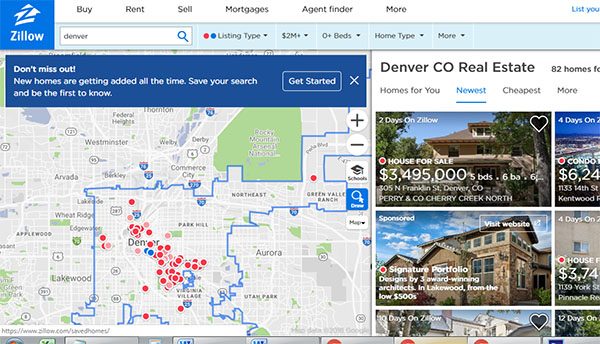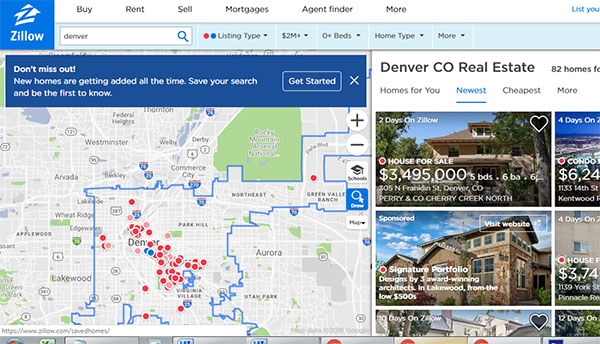 The home of the Zestimate is branching out into the all-cash offer.
Seattle-based real estate listing firm Zillow launched its "Zillow Offers" program in Denver today,– where the publicly-traded firm will start begin buying and selling homes with its own money.
"It takes the stress and the hassle out of the whole process for the seller," said Sue Dolquist, general manager, Denver Zillow Offers. "It makes the house more of a liquid asset."
Here's how it works: Sellers enter their address onto the Zillow website, and Zillow comes back with an initial offer approximating the home's worth. If the seller likes what they see, the company sends an estimator out to the home to calculate a more precise value and make a formal offer.
The seller can pick a closing date between two weeks and 90 days out. Zillow said its research has found that timing the sale of a home with the purchase of a new one is a top concern for sellers, and said the program will let sellers avoid "the extra work and time associated with a traditional sale."
Not all homeowners will be able to get in on the action. Zillow will make offers only for select properties.
"We're definitely not buying luxury homes, and we're also not buying homes that are in poor condition," Dolquist said.
After buying a home, Zillow will list it for sale.
Zillow Offers also operates in Las Vegas, Phoenix and Atlanta. The company plans to launch the program this winter in Charlotte and Raleigh, North Carolina.
Dolquist has worked in Denver real estate since 2005 and said the metro area will provide ample testing grounds for the new Zillow Offers program.
"It's relatively easy to close in Denver (and) it's a large market," she said.
She said nine employees at Zillow's Centennial office work on Zillow Offers and she expects that to increase to 30 in the next year or two.
Zillow hired Denver's Atlas Real Estate Group to provide agents that will represent the company in its purchases and sales.
Atlas co-founder Jason Shepherd said he has been in talks with Zillow for three months. Shepherd said his agents will get the standard 2.5 to 2.8 percent commission when someone purchases a home from Zillow. The agent's commission when Zillow buys a home will be negotiated.
Shepherd said he doesn't know how much business he expects to get from the program.
"We're interested to see how this works here in Denver," he said. "It's such a new offering for consumers."
John Skrabec, president of long-time Denver brokerage Live Urban Real Estate, said most brokers in Denver don't see Zillow Offers making a big dent locally. He said he believes the company is targeting properties $500,000 and under.
"Our average sales price is over that," Skrabec said. "We're talking about a smaller portion of the market that would even be eligible for the program."
Skrabec also questioned the appeal of Zillow Offers in competitive markets such as Denver.
"Unless you have some extenuating circumstance that you have to sell your house quickly, why would you do this?" he said. "You're not offering your home up to the market … You're just shooting yourself in the foot because you're not getting the demand for your property."