A Denver food truck operation that offers "slow cooked gourmet cuisine" will open its first brick-and-mortar location in Sunnyside, replacing a planned taproom.
Crock Spot — which launched in 2010 at a farmers market in Cherry Creek and has expanded to two food trucks — signed on to take 1,678 square feet at 4045 Pecos St.
Crock Spot offers a "build a bowl" menu.
"The process is you choose a grain, you choose a protein and you choose a sauce," said Steven Brantz, one of three co-owners.
Bowl options rotate, but can include Thai jasmine fried rice or quinoa as grains, pulled pork or curried lentils as protein, and sriracha sour cream or basil tzatziki as sauces.
"There's this classic American quality to it, but our sauces are what bring in an international aspect," co-owner Mandy Smith said.
Crock Spot will fill a ground-floor corner unit in the former Catholic Charities headquarters, which HM Capital has been renovating into a mix of office and retail space. The project, which also involves the construction of townhomes west of the building, is branded Block Forty45.
Crock Spot's space was supposed to become a 14er Brewing taproom; the RiNo brewery signed a lease for the space in May.
Nina Khosravi, Block Forty45's community manager, said in an email that a nearby halfway house subsequently became "concerned with their tenants being that close to a beer-serving establishment."
"Long story short – they got a lawyer involved and the registered neighborhood org and ultimately the BOA voted no," Khosravi said, referring to Denver's Board of Adjustment for Zoning Appeals.
Smith said her then-boyfriend Stephen got a crock pot for Christmas one year while living in New York City, and friends gave rave reviews for the slow-roasted meats and stews he prepared.
The couple started Crock Spot after Stephen relocated to Denver so they would be together. They launched their first food truck in 2011 and their second in 2017. In between, in 2014, the two got married. The Smiths recently brought on Brantz as a third partner in the business.
Smith said she and her husband always were interested in opening a brick-and-mortar location, although they'd begun to doubt it ever would happen. They heard about the Block Forty45 space after 14er had to pull out. Smith said rent is about $3,000 a month.
The goal is to open in early 2019.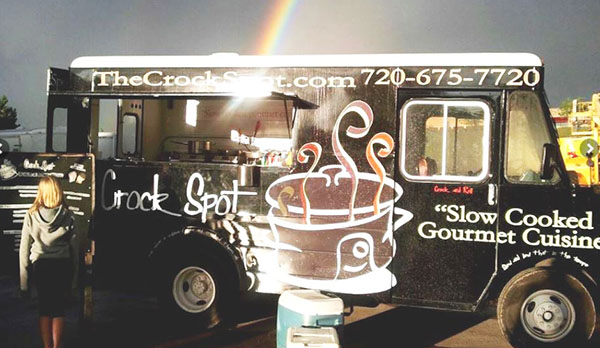 29382