The lumberjacks have their eye on Ballpark real estate.
Mario Zelaya, founder of Canada-based Bad Axe Throwing, is under contract to purchase the 11,000-square-foot building at 2235 Arapahoe St., adjacent to Great Divide Brewing.
The two-story building will become the second Denver location for Bad Axe, which came to the city last summer. Zelaya said the transaction is slated to close in December, and he's aiming for a spring 2019 opening.
"It's very hard to find a location in a city that will meet your short-term and immediate-term needs, but also has the long-term potential," Zelaya said. "We're very busy in Denver. We need more capacity."
At Bad Axe's current location at 7338 Washington St., just north of Denver, the five throwing lanes are always booked full on the weekends, Zelaya said.
Some customers have real talent; Zelaya said one Denver resident recently took second place at a World Axe Throwing League championship. But most customers are just having fun, he said.
"Since we've gotten our beer and wine license, the demand has actually increased," he said, adding that customers are looking to "hang out, have a couple beers and throw some axes."
Zelaya declined to disclose how much he will pay for 2235 Arapahoe St. He said a family of plumbers has owned the building for nearly a century.
"Right now, they're not using that building," Zelaya said. "I'm essentially buying it for the shell."
Zelaya said has hired Bright Construction and P3 Architects for the build-out of the location, which he estimated will cost between $300,000 and $400,000.
The building needs a new roof, he said, and plans include a rooftop patio. The venue will have as many as 17 ax-throwing lanes, in addition to a restaurant and bar that serves only craft beer and wine.
"It's more for safety reasons," Zelaya said of the lack of hard liquor. "We don't want people to be intoxicated when they're ax throwing."
Zelaya founded Bad Axe in Ontario in 2014, and has expanded to eight locations in Canada and 15 in the U.S., including a location opening in Colorado Springs this weekend.
The new Denver location will be Bad Axe's largest in the U.S., Zelaya said. Denver will join Chicago and Indianapolis as cities where the company has two locations.
Bad Axe will add to downtown Denver's active indoor entertainment options that already include ax throwing at the Downtown Art Gallery and Axe Room. An indoor mini-golf venue is planned for the Spaghetti Factory space in LoDo.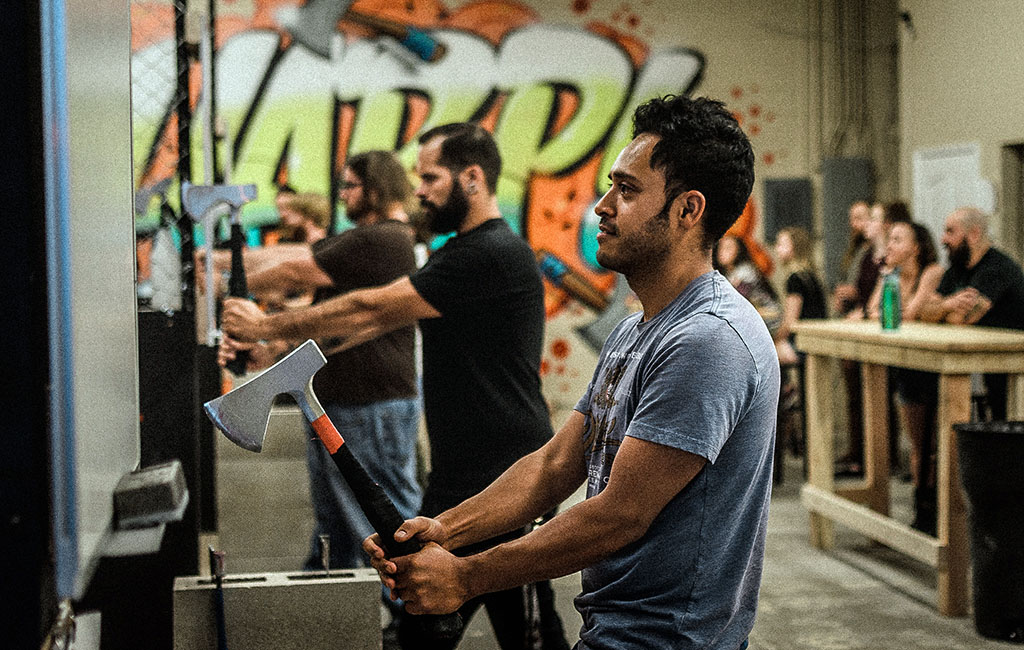 29353