A Canadian pastime is hurling into Denver.
Bad Axe Throwing, an ax-throwing event venue, is staking its ground north of Denver, opening a 2,500-square-foot venue at 845 E. 73rd Ave. this August.
CEO Mario Zelaya picked Denver for Bad Axe's third U.S. location to be near local tech companies, which he said are often the first in a new market to host ax-throwing corporate parties.
"A lot of these cities that we're in all have a strong tech presence," Zelaya said. "This is bowling 2.0. This is the cool hip thing people want to do."
He said Bad Axe scouted the spot on the northeast corner of Interstate 25 and Interstate 270 for its access to downtown and proximity to other entertainment nearby, such as Unser Karting and Events.
"It's a five- to 10-minute drive from the Pepsi Center or Coors Field," he said. "That area in part has a lot of highway access. We're a destination type of business."
Zelaya grew up throwing axes in Canada. In 2014, he opened the first Bad Axe Throwing with his brother-in-law in Burlington, Ontario. The company has expanded to 11 locations, including two stateside – in Chicago and Indianapolis.
Zelaya is funding the growth with capital from his previous business, marketing agency Majestic Media. He said Bad Axe is in the black, but declined to share revenue numbers.
Drop-in customers can visit Bad Axe for $20 per hour, but the company's bread and butter is group events that cost $44 per person. Zelaya said he's seen ax-throwing bachelorette bashes, corporate teambuilding events and even divorce parties come through the venue's doors.
Sessions start with a coach explaining safety and throwing techniques. Players then throw 2-pound axes at a wooden target from 12 to 15 feet away, playing a few team-based games and then a group tournament.
Although Bad Axe does not serve food or alcohol, groups are allowed to bring grub and beer while they play.
Zelaya is planning for no more than 10 targets at his new Denver facility, each of which can accommodate eight to 12 people. About seven employees will help run the new facility.
Bad Axe also founded the World Axe Throwing League, the self-described global governing body of ax throwing. Zelaya said the league now has 23 member leagues in the U.S., Canada, Brazil and Ireland.
In addition to Denver, Zelaya is bringing ax throwing venues to Atlanta, Oklahoma and Washington. By the end of the year, he hopes to have seven or eight locations in the U.S.
[googlemaps https://www.google.com/maps/d/u/0/embed?mid=1v11SJrc8TzyTigtYF4qoiIhQP-s&w=600&h=450]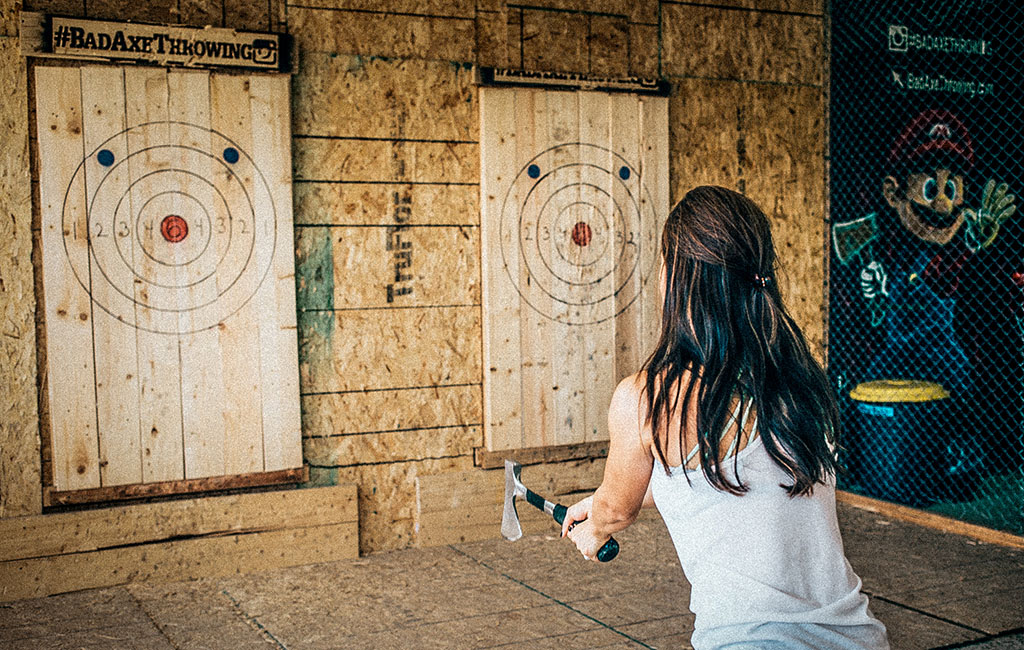 17323