Nick Kaplan had a list of must-haves when he started building a camper top for his 2011 Ram 1500.
It had to be warm, comfortable and protected. So with his wife and 3-year-old in mind, he built a rig complete with temperature controls, a solar panel and a functional outdoor kitchen that he claims he can put on his truck in five minutes before dashing into the mountains.
Now, as he moves on to his next project, he's ready to pass along his creation.
The Highlands Ranch local has listed the camper on Craigslist for $5,900, which includes the electric lift he uses to secure the camper to his garage ceiling.
"I can literally drop it on in five minutes and head out," said Kaplan, 40. "I like to get off the beaten path, so a big inspiration was that I could just put it on and go."
The camper is a bottomless aluminum shell able to fit over any standard-size truck bed, and employs a pull-out kitchen equipped with a sink and propane stove. The interior fits a mattress for two, and allows plenty of room to sit up and move around.
Kaplan uses his retractable truck bed cover as another sleeping space for his young daughter.
The pull-out kitchen makes outdoor living easy, he said. The sink's electric pump is triggered by turning on the faucet, and the cooktop uses an 11-pound propane tank. Using a large cast-iron pan, Kaplan's go-to dish is a one-pot sausage and veggie meal.
Kaplan has taken the camper on rugged terrain, most notably on a turkey hunting trip to Westcliffe. But hauling two ATVs along jagged trails wasn't the roughest part of this excursion. Kaplan endured a spring storm and 18 inches of snow.
"It was awesome having a heater given the weather," he said.
The camper's lightweight design allows for easy attachment to a garage ceiling using either the included electric lift or ratchet straps, and leaves enough space for a car or truck to park underneath.
"I didn't want to pay for storage," Kaplan said. "That's a big thing in the RV world, having to pay monthly storage fees. I can just hoist this right up in my garage."
Because nothing quite like it was available on the market, he decided to build it himself.
The camper is made mostly of wood and aluminum, and took Kaplan about six months to complete. An IT director who enjoys working with his hands, he began by designing the camper in SketchUp, a 3-D modeling computer program, before beginning on actual construction, which took place in his garage and basement workshop.
Kaplan ensured the camper would be well-insulated by enlisting Challenger Door, an Indiana-based manufacturing company that specializes in building doors for RVs, to custom-make the camper's door and hatch. The rig also features a suburban furnace for cold nights and a rooftop solar panel for power.
"This was by far my biggest challenge," he said. Because this was his first time building a camper and due to its unique design, Kaplan went to YouTube to find helpful tips. He found that teardrop trailers — compact, lightweight caravans named for their unique shape — were most similar in construction to the camper he had in mind.
Kaplan said his Craigslist post has attracted a wide range of potential buyers. One is interested in using it for full-time travel, while another is a gold miner wanting to use it for month-long stays at his claim.
With the camper moving on to new owners, Kaplan's next project will be to convert a sprinter van, again with his family in mind.
"I built this for camping, and now we want to do more travel with family," he said.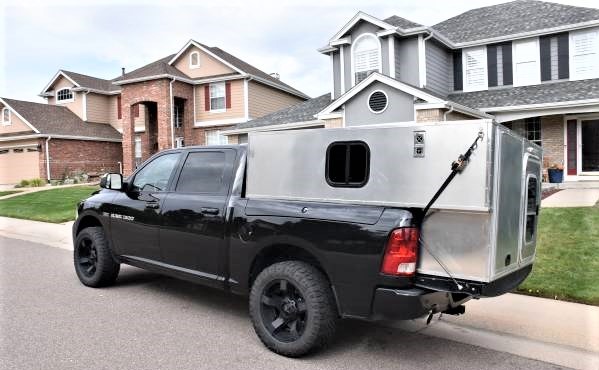 28940