A development team that includes a top Denver Housing Authority executive wants to build a 16-story apartment building a block off Brighton Boulevard in RiNo.
RiNo 16 LLC submitted a site-development plan to the city this month, proposing the development on 0.45 acres at the corner of Wynkoop and 36th streets, near the 38th and Blake light-rail station.
The building would be constructed on what is currently two parcels: 3541 and 3595 Wynkoop St.
3541 Wynkoop currently is the site of a single-family home owned by Peter Snavely of Ohio-based real estate firm Snavely Group, which developed the apartment complex 1000 Speer in Denver with San Antonio-based Lynd Co.
3595 Wynkoop St. is home to a two-story commercial building leased by CrossFit LoDo. The property is owned by RiNo Vertical Development LLC, which is controlled by Ryan Tobin, director of real estate development for the Denver Housing Authority. Tobin said he has worked as a consultant or owner representative on some private developments in the past, but this would be his first project with an ownership stake.
Tobin and Snavely Group are partnering on the planned development, which is not affiliated with the Denver Housing Authority, where Tobin has worked since 2005.
The parcels are among those surrounding the light-rail station that are now zoned for up to 16 stories if a development meets certain requirements regarding income-restricted residential units, the result of a measure that Denver City Council passed this year.
The structure Tobin and Snavely want to build — dubbed Vert Lofts, after the French word for green — would have 175 residential units.
Developers can meet the affordable-housing requirements that allow them to build higher in several ways, including building income-restricted units on nearby properties.
Tobin said he and Snavely are taking the most straightforward option: building the income-restricted units on site. He said the requirements state that approximately 10 percent of the units be income-restricted.
"We're obviously embracing that," he said. "That's part of what I do as part of my chosen career path here in Denver."
Tobin said he will not seek to finance the income-restricted units with low-income housing tax credits, because those credits are limited and the Denver Housing Authority also seeks them.
"I knew that developing affordable via the tax credit vehicle was not something I wanted to do, because I'd compete with my day job," he said.
The apartments would be on the fourth through 16th floors, according to the site plan, which also shows a rooftop pool. The units include 426-square-foot studios, one bedrooms ranging from 587 to 707 square feet and two bedrooms ranging from 793 to 941 sf.
All the units would open to a exposed corridor overlooking an interior courtyard.
The building also would have two commercial units on the ground floor, and 191 parking spaces across three below-grade levels as well as the building's first three floors.
Studio 646 Architecture in Golden drew up the plans.
Tobin said he and his late father purchased the building at 3595 Wynkoop St. in January 2010 for $440,000. They wanted it to be a base for their efforts to teach wrestling; Tobin was a three-time All-American in the sport at the University of Nebraska, and competed in the 2004 Olympic Trials.
"Wrestling was a big part of our life," Tobin said.
Tobin said the property was upzoned shortly after he and his father bought the building, then altered again by the measure the council passed in February. Using the property as a gym "is not a sustainable business model for the neighborhood" anymore, he said.
"Property taxes have almost tripled on me," Tobin said.
The site-development plan is subject to change and still needs city approval.
"If our stars were in alignment, sometime next year we would try to kick this project off," Tobin said.
Immediately next to the proposed development, along Brighton Boulevard, Englewood-based TWC wants to build a six-story Vib hotel, with 112 rooms. Across from that is planned mixed-use project Revolution 360.
On the other side of the light-rail station, Denver-based McWhinney also has proposed a 16-story building, taking advantage of the altered height restrictions.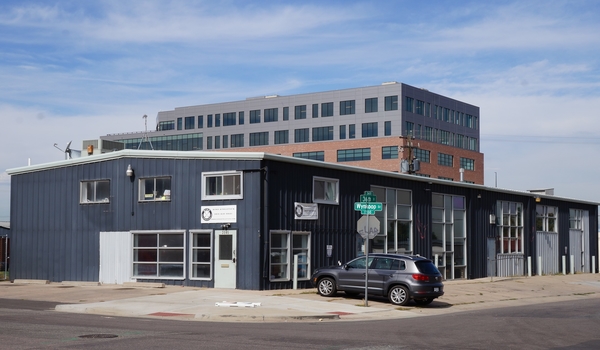 28795