After pedaling into Denver last year, Ann Tribone is transitioning from spin fanatic to fitness entrepreneur.
She signed a lease last month on a 3,100-square-foot space at 3601 Walnut St. for Viv Cycle, an indoor cycling studio she plans to open early next year.
"That area of RiNo is really up and coming," said Tribone, 26. "I think it's going to be a really exciting and vibrant area."
The cycle studio is one of the first retail tenants on the first floor of The Hub, RiNo's mixed-use development where WeWork and HomeAdvisor are also signed tenants. Above The Hub's first-floor retail are two floors of parking, which will be available to Viv customers.
"There's honestly nothing worse than signing up for a class and circling around finding parking and then you're late for class," Tribone said.
Tribone grew up in a Washington, D.C., suburb and studied industrial engineering at Georgia Tech. She landed a job in management consulting at Accenture, and spent the next few years traveling around the United States, dropping into indoor cycling classes at small fitness studios. She moved to Denver in April 2017.
"I couldn't find an indoor cycling studio that I loved," Tribone said. "I saw a gap in the market."
Tribone is funding the new studio through a private investor and plans to hire 10 instructors. She is buying 42 bikes that will be arranged in stadium-style tiers so that each attendee easily can see the instructor.
"We're definitely more of the rhythm-based, high-energy, loud-music vibe," Tribone said.
Tribone will offer all the aspects of cycling studios that she has enjoyed during her visits to them around the country. Viv will have a separate stretch room for clients to have ample time and room for warm-up or cool-down stretches.
"I've found that there is typically not enough time or space for riders to properly stretch before or after class," Tribone said.
The studio also will be equipped with lockers, showers and a beauty bar with full-length mirrors where clients can get ready for work after classes.
RiNo is home to another cycling studio, Epic Ryde, which recently announced expansion plans in LoHi and Westminster.
"I would hope our first one is successful within a year and I'm in the search for a new location in the second year," Tribone said. "I hope to be opening multiple studios within a couple years."
Kyle Framson with Zall Commercial Real Estate represented The Hub in Viv's lease negotiations.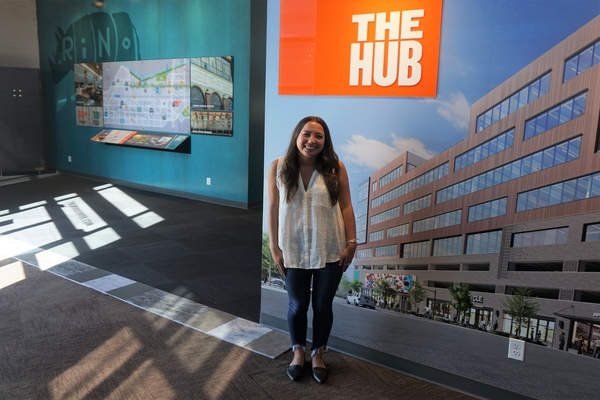 28551