A Highlands landlord who sued a spin studio in his building over noise issues has found a replacement for the space: another spin studio.
Epic Ryde will move into the second-floor, 1,500-square-foot space at 4433 W. 29th Ave. this fall, replacing High Ride Cycle.
Building owner Ilan Salzberg sued High Ride last year, threatening eviction in what he said at the time was an effort to get the studio to pay for more soundproofing. Adjacent tenant City Roots Dental complained about the noise, while retail shop Aspen and Pine directly below the studio complained of vibrations, Salzberg said.
High Ride owners Megan and Scott Hanson countersued, saying "For a cycling fitness studio to be successful, the studio needs to play fun and invigorating music," at "dance club" levels.
Salzberg said his company, SloHi Village LLC, and High Ride reached a settlement this spring, in which High Ride agreed to move out.
"If I ever complain that college is expensive, I should go through this again," Salzberg said Wednesday. "I think this has been a great education process."
Salzberg will pay for improvements to further soundproof and improve the building to make the new studio's spin classes tolerable to other tenants.
Salzberg acknowledged it seems like an odd transition — "The dentist's face dropped when I told him it was another spin studio" — but said, "I'm bull-headed and I know it's what should go there.
"I want to see it done right," Salzberg said. "It's about two weeks of work. We're not talking about a major impact."
Plus, Salzberg said, he's doing it for his wife, who frequented High Ride.
"She likes spin," he said. "It's her thing. It'll be nice to get the report that she had a great session."
Epic Ryde opened in the Sloan's Lake neighborhood in 2011, before relocating to its current RiNo location at 2823 Larimer St. Owner Lori Melchior said Salzberg approached her about the space, and she couldn't pass up the chance to return to the studio's first neighborhood.
"We've been in business just over seven years now," Melchior said. "It was just a good time for growing Epic Ryde."
Epic Ryde's RiNo location will stay open. The company also has signed a lease on a third location at 8860 Westminster Blvd., which will open in summer 2019, Melchior said.
Melchior is splitting ownership of the studio 50/50 with her business partner and longtime cyclist, Shannon Renick. Unlike other indoor cycling in Denver, Epic students don't lift weights on bikes. And they definitely don't dance.
"If you wouldn't do it on your bike outdoors, you're not going to do it in our studios," Melchior said.
As for High Ride, it's moving its "dance-on-a-bike" studio one-half mile away, to a 2,000-square-foot space at 1711 Sheridan Blvd.
Megan Hanson declined to comment on the litigation, but said, "We wanted something that was close to our current location so that our members didn't have to travel too far."
Plus, she said, the space is bigger, allowing High Ride to purchase seven new bikes for a total of 37.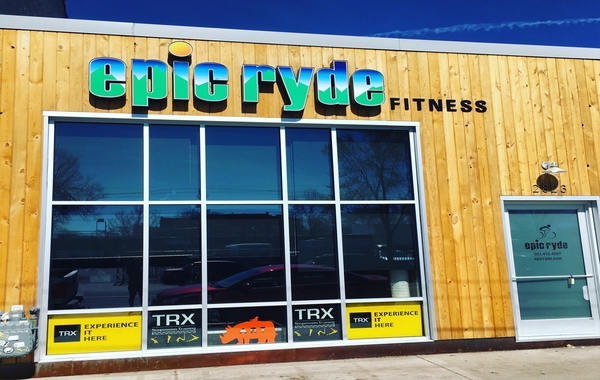 28426