A Lakewood residence that once hosted British royalty, politicians and Hollywood celebrities was the highest-priced home to sell last month in the Denver metro area.
The Taylor Estate, located at 6900 W. Lakeridge Road in Lakewood, sold for $6.49 million at auction. The buyer was West Lakeridge Farm Ltd., according to county records.
The estate, purchased by oilman Vernon Taylor in 1951, includes a 14,000-square-foot mansion, 65 acres of land and nearly half of Ward Reservoir.
The mansion, built in 1932, has 11 bedrooms, nine bathrooms and 11 fireplaces. The classic English Tudor was designed by famous Denver architect Burnham Hoyt, designer of the Red Rocks amphitheater and part of the Denver Public Library.
The Taylors raised their four sons at the home, said listing agent Fred Wolfe with LIV Sotheby's International Realty.
"If the Taylor residents were in town, the staff was under orders to have a fire burning in every fireplace, all day, every day," Wolfe said.
Vernon Taylor died in 2013, and his wife died in 2007, both at 97.
Above the four-car garage were the living quarters for the household staff, who were also the most recent residents of the estate, Wolfe said. Two housekeepers had lived there for 41 years and a property foreman was employed at the estate for 14 years.
"It is the kind of property of a (bygone) generation," Wolfe said.
The purchasing entity, West Lakeridge Farm Ltd., was formed by an attorney with Jackson Kelly, who did not respond to a request for comment. Wolfe said the buyer grew up in Lakewood and plans to winterize the house instead of living in it for the time being.
The property sold for $7.5 million less than its original $14 million list price.
"We were looking for a long time trying to find the right buyer," Wolfe said. "The sons became convinced that maybe we'd find the right buyer through an auction."
Wolfe said his favorite room is the library, which features floor-to-ceiling panels of pine shipped from England.
"You think you were walking back in time 200 years," he said.
Here are other high-priced home sales throughout the state in August, according to multiple listing service REcolorado:
-A home at 9268 S. Perry Park in Larkspur sold for $6.8 million.
-A condo at 1133 14th St. in Denver sold for $5.3 million.
-A home at 165 Green Rock Drive in Boulder sold for $4.7 million.
-A home at 198 Timber Trail Road in Breckenridge sold for $4.6 million.
-A home at 425 Kearney St. in Denver sold for $3.6 million.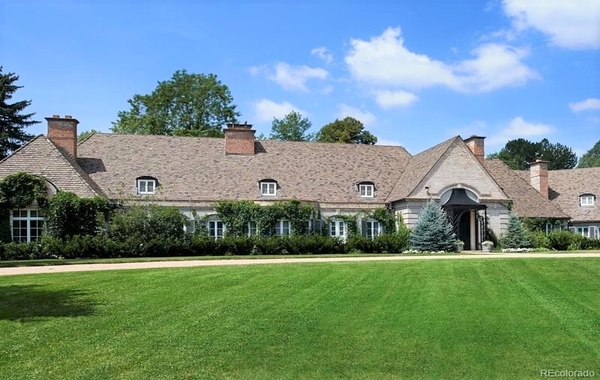 28444