After stretching its yoga brand to more than 20 studios across the country, Boulder-based Yoga Pod has found itself in a series of uncomfortable postures with its franchisees.
At the beginning of this month, Castle Rock Yoga Pod left the Yoga Pod umbrella and rebranded itself to Yoga Castle Rock. The studio hosted its grand opening in March.
It's just one of five studios to leave the franchise and rebrand within the last year—which represents nearly one-third of the yoga franchise's 17 studios—and the third to leave this summer.
General complaints against Yoga Pod include a lack of support and communication from the company upon opening, a push for different types of classes and inaccurate projections for what it costs to open and run the business.
Yoga Pod CEO Alex Jarboe, 33, said the company never prevents any of the studios in their network from leaving.
"If an individual wants to have their own brand, then that's totally their prerogative," he said. "If that legal contract is counter with how they want to live their lives, we're never going to hold someone against their will."
Kodi Younghein, who identified herself as a co-owner of what was previously Yoga Pod Longmont, said she rebranded her studio to Sol 19 last month. The studio opened in November 2017. (A spokesman for Yoga Pod disputed that Younghein was a co-owner of Yoga Pod Longmont, and said her role while it was open is best described as manager.)
Younghein said she chose Yoga Pod because she wanted the support and help that an experienced yoga company could offer.
"I think that initially when we first stepped into it, it was a very beautiful concept that was delivered to us," Younghein said. "Once we opened, the blinders got ripped off and it became a real business. … The support wasn't there. The numbers were extremely inaccurate. They sold us a concept that wasn't a real thing."
Younghein approached Yoga Pod to work through some of the issues she saw with the brand. Younghein said she was in the middle of talking back and forth with lawyers to reach an agreement when the company shut down her software system controlling payment, scheduling and communication with members in June (the Longmont Times-Call first reported the incident in June).
Younghein said that Yoga Pod sent emails to her members, attempting to recruit them to transfer to the Boulder studio, operated by Yoga Pod founders Gerry and Nicole Wienholt. (Last summer, the Wienholts transferred majority ownership of the company to CEO Alex Jarboe, COO Dan Carbonell and chief sales officer Rachel Jarboe.)
Jarboe confirmed that Yoga Pod notified Longmont members that they could attend other studios upon the Longmont studio's closure.
Younghein continued to teach yoga, and now has gained back about half of her members. She's also spent close to $10,000 in legal fees to make a clean break from Yoga Pod.
"Tracking down that many people when you lose your system is not an easy task. Thank God for social media," Younghein said.
Yoga Pod charges a $40,000 fee to buy into the franchise and tells franchisees it costs between $382,000 and $684,000, plus 7 percent of gross sales, according to its franchising materials on the Yoga Pod website.
Younghein claimed she also exceeded Yoga Pod's expectations for a new studio, opening with 425 yoga members.
"They told me to be open with 300 and we'd be kicking ass," she said. Instead, she found herself barely getting by. She said her studio would have been profitable, if not for the royalty cut she was paying.
Younghein also said Yoga Pod told her to open with 95 classes per week and pay her teachers $40 or more per class. "My payroll was through the roof," she said. Now, she runs 65 classes and pays teachers around $30 per class.
Younghein also followed Yoga Pod's suggestions for construction buildout to replicate the look and feel of the brand, including selecting the company's lighting fixtures for the studio and lobby.
"Some of the finishes were so expensive," Younghein said. "My lighting package was $75,000, and my brother-in-law works for a lighting company and said, 'This is insane. You can cut this in half.'"
Younghein is not alone in finding independence from the yoga company. In addition to Yoga Pod's previous Longmont location, Yoga Pod Cupertino (in California) rolled up its mat even before opening for business. Owner Robin McDonald broke from the franchise and opened as Yoga Wave on July 7.
In May, Yoga Pod Park Meadows owner Kori Norberg switched over her franchise to a Kindness Yoga Studio.
And in November, Yoga Pod's Littleton studio terminated its agreement with Yoga Pod and became Yoga Joy Littleton. The studio owners sued Yoga Pod in March, claiming the company shut down their software system unfairly, among other grievances. A jury trial is scheduled for early next year. Yoga Joy Littleton co-owner Stacey Goddard declined to comment for this article.
According to lawsuit documents, the crux of Goddard's original conflict was the new fitness-oriented classes the new ownership at Yoga Pod was enforcing in its studios.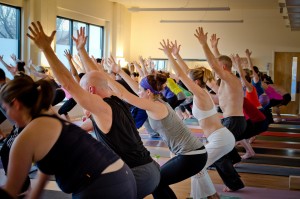 "YPI began pushing on its franchisees a brand of yoga that resembled generic exercises classes taught at traditional full-service athletic clubs," the lawsuit claims.
In a conversation with BusinessDen in May, Jarboe said the fitness-oriented classes were introduced to help make yoga accessible to even more people.
"Someone off the street will know what to do with a dumbbell versus what to do with a yoga block," Jarboe said. "Fitness is a good gateway to yoga. We want to challenge students across the board in both yoga and fitness."
In addition to the five studios that have rebranded, a studio in Minnetonka, Minn., closed after three months in business, Jarboe said, and a Portland studio closed in 2014.
"We are here to ensure that our franchisees are as successful as possible and we've made numerous exceptions to our franchises," he said. "If they wish to de-brand, we allow them to do that without penalty. If they wish to stay in the network, we are here to support individuals' livelihoods."
Younghein thinks it's a blessing in disguise she was able to break away from Yoga Pod's franchising model.
"CorePower started that way, and there's a reason they switched to corporate," she said. "I don't think studios make enough money to pay that high of a royalty off the top of their earnings," Younghein said.
Editor's Note: This story was updated Oct. 12 to include comment from a Yoga Pod spokesman regarding Younghein's role at the former Longmont studio.